Adelaide F. Samuels (Adelaide Florence (Samuels) Bassett)
Born 24 September 1845, in Boston, Massachusetts, Adelaide Samuels was the second child of Emanuel and Abigail (Zanka) Samuels. [1] Her elder brother, Edward Augustus, was born in Boston on 4 July 1836. As sometimes happens with female authors of children's books, more information is available about the male members of Samuels' family than about Adelaide Samuels herself. A biographical entry on her brother in the Dictionary of American Biography notes that Emanuel Samuels "was interested in outdoor life and encouraged [his son, who became an ornithologist] in his studies in natural history." [2]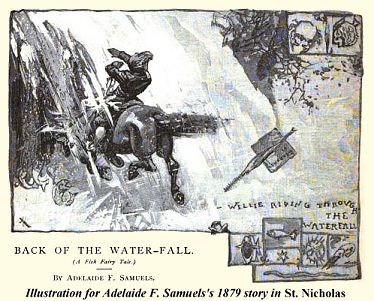 Adelaide Samuels attended a district school in Milton, Mass., and later became a teacher. In the interim, her brother, who worked for the Massachesetts State Board of Agriculture for twenty years (1860-80), had started writing "for the press" early in his career (DAB). He was also involved in at least some writing for children, for in January, 1867, the premier issue of Oliver Optic's Magazine included his name among those who would be contributing articles to the magazine. [3] In June, 1869, he married Susan Blagge Caldwell (1848 - 1931), who had also been a schoolteacher and also became an author of books and articles for juveniles. Susan Blagge Caldwell Samuels's six-volume series, Springdale Stories, was issued in 1870 by Lee & Shepard, the publisher that issued Adelaide Samuels' first series the following year. It's thus tempting to speculate that Adelaide Samuels' brother and sister-in-law may have helped influence her work or its publication.
Samuels's first series, Dick and Daisy, chronicled the gradual rise of two orphaned siblings, Daisy and Dick Travers. It received a brief, but favorable, review in Harper's. (The reviewer felt it was "nearly if not quite as good" as Amanda Douglas's Kathie Stories.) Samuels continued the characters' adventures the following year in the four-volume Dick Travers Abroad, and, several years later, added a single volume Daisy Travers; or, The Girls of Hive Hall (1876). She also published several articles in juvenile periodicals, including at least two in St Nicholas in the late 1870s. [4]
In 1891, Adelaide Samuels married Orville Bassett in New Bedford, Mass. She published at least one work after her marriage, a collection of nursery rhymes titled Father Gander's Melodies for Mother Goose's Grandchildren (1894). [5] Her entry in Woman's Who's Who of America from 1914-15 notes that she was a Presbyterian, a member of the Civic Club and of the Guild and Grange, that her recreational activities included "music [and] reading," [6] and that she "Favors woman['s] suffrage." No information about her date of death has been located.
Notes
[1] Information about Samuels family is from Ancestry World Tree: St. Paja's Tree, created and maintained by Paula Reed; accessed via Ancestry Plus 17 May 2003.
[2] Additional information about Edward Augustus Samuels appears in the biographical sketch for his wife, Mrs. S. B. C. Samuels.
[3] Raymond Kilgour, Lee & Shepard: Publishers for the People (Shoe String Press, 1965): 66, 93.
[4] An online index is available for St. Nicholas at FictionMags. The URL for St. Nicholas periodically changes as information about other periodicals is added to the site, but can also be accessed via the site's title index.
The online index to St. Nicholas shows Samuels' two contributions as a non-fiction piece, "How to Make and Stock an Aquarium" from 1876 and "Back of the Waterfall (A Fish Fairy Tale)" in 1879.
[5] The National Union Catalog Pre-1956 Imprints shows only one other work by Samuels: Lottie Eames; or, "Do your best, and leave the rest," from 1873. This may be a mis-attribution.
[6] Her interest in music may also reflect a family background, for her brother actually published music for a period.
Print Sources Consulted
Appleton's Cyclopedia of American Biography
Dictionary of American Biography
Lee & Shepard, Publishers for the People
Woman's Who's Who of America, 1914-15