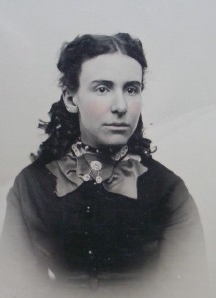 Mrs. S. B. C. Samuels (Susan Blagge Caldwell Samuels)
Only scanty biographical information is available about Susan Blagge Caldwell, who published one juvenile series under her married name, Mrs. S. B. C. Samuels. She was born in Dedham, Massachusetts, on 21 October 1846, to Comm. Charles Henry Bromedge Caldwell and Judith Emmeline Parker.[1] No information about her early education has been found, but according to her entry in Appleton's Cyclopedia, she taught in Waltham and Boston prior to her marriage and apparently retained some involvement with the educational establishment, for in 1885 she served on a school committee in Waltham, Mass.

On 28 June 1869, she married Edward Augustus Samuels, a naturalist and writer of non-fiction. Her husband worked for the Massachusetts State Board of Agriculture from 1860-1880 and also served as "curator of state natural history collections" during that period [2]; from 1885-1892, he was President of the Massachusetts Fish and Game Protective Agency. During the 1860s, E. A. Samuels published papers on ornithology, and his Ornithology and Oology of New England appeared in 1867; it was reissued in 1870 as The Birds of New England. His other works include With Fly-Rod and Camera (1890), which the Dictionary of American Biography credits as being "perhaps the first publication to suggest the 'hunting with a camera,' instead of a gun." Prior to his marriage, he was involved with writing for at least one children's periodical, for the initial issue of Oliver Optic's Magazine carried a notice that future issues would include contributions by him, and two of his articles appeared in 1868. [2a]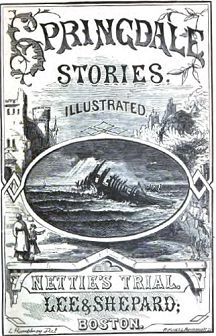 Shortly after her marriage, Mrs. Samuels authored a six-volume series, Springdale Stories, published by Lee & Shepard in 1870. It attracted a fair amount of attention -- Richard Darling's The Rise of Children's Book Reviewing in America, 1865-1881 records four reviews of the series appearing in various periodicals in 1870-71. Reactions to the series were mixed and provide an illuminating glimpse of attitudes towards children's fiction from that period: the consensus seemed to be that the books offered exciting reading that would appeal to children -- and were potentially injurious for just that reason. In Lee & Shepard: Publishers for the People, Raymond Kilgour remarks that "The Nation which had not reviewed [books by Lee & Shepard] for several years, gave this series a good notice," commenting on (according to Kilgour) "the lively incidents, the absence of mock sentiment, the 'readable English'" -- although it also cautioned parents that the books might be too exciting and "would make anything short of a sensational novel pall on the children's tastes." [3] Harper's also blended praise and censure, incorporating its review into part of a larger diatribe against a growing trend toward sensationalism in children's books:

Sensationalism in grown folks' novels is bad enough, but it is in vain to cry out against Charles Reade, or even Sylvanus Cobb, while we feed our children on such highly seasoned diet as Pinks and Blues, Oliver Optic's Bear and Forbear, [Louise Thurston's] Charley and Eva Roberts' Home in the West, or even Mrs. Samuels's Springdale Stories. Robbers, smugglers, counterfeiters, and murderers carry the heroes and heroines through a series of adventures that are only saved from being sensational by being stupid. That children read such stories with avidity is not surprising; but what possesses parents to purchase them, and Sunday-schools to give them circulation? Of these books, the "Springdale Series" in six volumes, is the least objectionable, and affords some compensation for its absurd story of the smuggler's cave, and its grotesque travesty on Eton, by really giving some useful information, and endeavoring, with some success, to point a moral. [4]
Lee & Shepard -- and the series' audience -- apparently had no such qualms, for at least several of the series volumes were reprinted in the late 1870s, and the series itself was reissued in 1886 as "The Golden Rule." Individual volumes were also reissued as part of two publishers' series.
In addition to "Springdale Stories," according to Appleton's Cyclopedia, Mrs. Samuels authored "numerous stories that have appeared in juvenile magazines and religious weeklies." Kilgour notes she was a contributor to Oliver Optic's Magazine; she also had several short stories published in St. Nicholas and Our Young Folks during the 1870s. [5] She had an additional connection with children's literature through her sister-in-law, Adelaide Samuels, who began writing children's series in 1871 and also penned articles for juvenile periodicals.
The Samuels' eldest son, Charles Caldwell, was born 7 September 1872, in Canton, Mass., and a daughter, Mabel Augusta Samuels, in 1876. [6] Biographical sketches of E. A. Samuels indicate that he had problems with his sight circa 1890, and, according to the DAB, he later went blind and suffered paralysis, but continued his writing by dictation. He died 27 May 1908, in Fitchburg, Mass., at his daughter's home. Mrs. Samuels died 16 May 1931.
Notes
Photograph of Susan Blagge Caldwell Samuels is from the family's collection and appears courtesy of Paula Reed.
1. Information about S. B. C. Samuels's family is largely from the geneaological page for St. Paja's Tree, created and maintained by Paula Reed; accessed via Ancestry.com on 23 May 2003. Some additional information was found in the joint entry for Edward Augustus Samuels, Susan Blagge Caldwell, and Adelaide Florence Samuels in Appleton's Cyclopedia of American Biography.
2. Clark A. Elliott, Biographical Dictionary of American Scientists: The Seventeenth through the Nineteenth Centuries, Greenwood Press, 1979.
2a. "The Woodchuck; or American Marmot," 7 March 1868 and "Harvest Flies," 24 Oct 1868.