Mrs. M. A. Osgood (Mary Ann Gunnison Osgood)
Mary Ann Gunnison Osgood is an author whose venture into children's fiction began and ended in 1872 with the four Little Canary volumes about a musically inclined child and her relatives.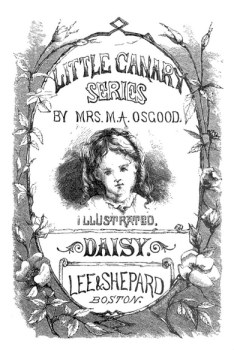 For years, the number of M. A. Osgoods in records made it difficult to attribute authorship, but it's now possible to provide biographical material on Osgood. Mary Ann Gunnison was born on April 23, 1826, in either Maine or New Hampshire, the only child of Joanna Dow and John Gunnison (1799-1861). Her mother died when she was four, and her father entered the ministry and remarried. By age sixteen, Mary appears to have moved in with her great-aunt Rachel, in Gloucester, Massachusetts, and joined the local Congregational church. Three years later, she married 36-year-old Josiah Osgood (1809-1892), a music teacher and church organist. The 1850 census records Mary and Josiah in Chelsea, Massachusetts, with a servant and their first two children, Martha -- called Mittie, born in 1846, and John, born in 1849. Josiah, a "professor of music," possessed an estate valued at $2500. [1]
By 1855, the couple were living next door to Josiah's brother John -- apparently on John's land, raising the possibility that they had difficulty maintaining a home. The household included their third child, Fletcher, born in 1852, and a domestic. At that point, Mary may already have started trying to market her writing. Between 1854 and 1862 over a dozen essays, poems, and short stories signed Mary A. Osgood or M. A. Osgood -- possibly her work -- ran in two religious periodicals out of Boston, Happy Home and The Home Monthly.
The 1860 census found Josiah still on John's property, with further indications of financial troubles. Mary's Great-aunt Rachel and her daughter from Gloucester were sharing the house, and the Osgoods had another child, Marion Gilman, born in 1859 -- but no servants. Shortly thereafter, the Osgoods moved to Lynn, settling on the edge of town. Josiah was now giving music lessons and selling pianos.
It seems probable that Mary was publishing in the 1860s -- perhaps aided by family connections. Two periodicals that printed some of her cousin Sarah Nowell's writing also carried short stories signed "Mary A. Osgood." "My Hour of Peril," ran in Ballou's Weekly Novelette in 1860; two years later Ballou's Dollar Monthly printed "The Test of Love." Both are typical story paper fare and, perhaps tellingly, both deal with women who use writing and their wits to resolve a problem.
About 1868 the Osgoods returned to Chelsea, settling several blocks away from Josiah's brother. The 1870 census recorded both Josiah and the Osgoods' elder daughter, Mittie, as teaching music. Their younger daughter Marion (who later formed one of the first all-female orchestras in the United States and who had a lifetime career in music) was still in school.
In 1872, Lee & Shepard published Osgood's four-volume Little Canary series. At that time, one of Lee & Shepard's most profitable juvenile authors was Sophie May, whose books had already sold almost 300,000 copies. The publishers evidently hoped for a similar reception for Osgood's books. Ads compared Little Canary with May's phenomenally popular Little Prudy, and Osgood's book titles emulate May's with the use of the adjective "Little" coupled with the protagonist's name, generally as a modifier for identification of other characters.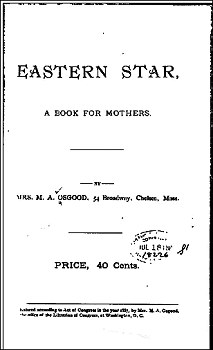 The series relates the domestic doings of the Carrol children and their families. Music, important to the Osgoods, figures in most of the books. The families bear the musical surname Carrol and periodically give evidence of their tuneful tendencies. Canary's mother and aunt play the piano; her father, the flute, and her grandfather, the bass-viol. All three girls take piano lessons, and mention of family members singing occurs throughout the series, with Little Canary -- nicknamed Bird – as the star performer, displaying unusual talent from infancy.
The series received little attention and mixed reviews. The periodical Dayspring, which gave the books to a child, reported he "does not speak so highly of these stories [as he did of others he read]. He says they are for small children, and he does not like so well to read them." Perhaps tellingly, the series packaging received the most favorable attention. A bird-cage design decorated the books' covers, and the four volumes were offered as a boxed set that, according to Publishers and Stationers Weekly Trade Circular was "a fac-simile [sic] of a bird-cage . . . with a label tied to the ring on top."
After Little Canary, Mary appears to have tried other means of supplementing the family's income. The 1876 Chelsea directory records her as teaching French, an occupation she pursued for at least fifteen years.
The only other publication that can be definitely identified as hers is a self-published pamphlet from 1887, Eastern Star: A Book for Mothers, eulogizing different stages of motherhood.
Mary's elder son died in 1884 and she was widowed in 1892. The 1900 census found her remaining three children – all unmarried – still living with her in Chelsea. That year, she also supplied lyrics for five children's songs composed by her daughter Marion.
Mary Ann Gunnison Osgood died in Chelsea, June 28, 1902, and she is buried in Woodlawn Cemetery.
Notes
[1] A longer version of this biography with more discussion of the Little Canary series was published in the Winter 2018 issue of Dime Novel Round-Up (vol. 87, no. 4), as "Mixed Melodies: Mrs. M. A. Osgood and Her Musical Family and Little Canary Series." Citations for sources can be found there.