Rebecca Sophia Clarke and Sarah Jones Clarke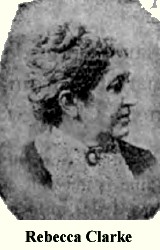 Rebecca Clarke (Sophie May) and her sister, Sarah Jones Clarke (Penn Shirley), were born in Norridgewock, Maine: Rebecca on February 22, 1833, and Sarah, seven years later, on September 12, 1840. Rebecca attended a "female academy" in Norridgewock and also studied Latin and Greek.
After finishing school, Rebecca Clarke moved to Evansville, Indiana, where she taught for a while until hearing problems forced her to return home.[1] She never married, but lived in the family home with Sarah Clarke, who was also unmarried and also producing magazine articles and children's books. Rebecca died in Maine in 1906; Sarah remained in Norridgewock after Rebecca's death and died there in 1929.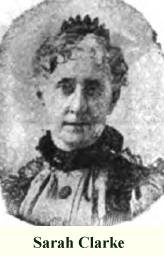 Sarah Clarke's ten children's books (three three-volume series and one individual volume) were published from 1886 to 1902, under the pseudonym "Penn Shirley." They enjoyed what could best be termed limited success. Her publishers, at least for the Little Miss Weezy series, capitalized on the family relationship, beginning the advertisements for the series with the words, "The author, PENN SHIRLEY, is a sister of SOPHIE MAY, and, without being in the least a copyist, has given to her books something of the inimitable charm which belongs to the Little Prudy series."[2]
Though Sarah's books were still in print in 1912, her career was never as fruitful as her sister's.
Rebecca's first story was published in 1860 in the Daily Appeal. Later stories appeared in Little Pilgrim, a juvenile magazine, then were published in 1864-1865 as the Little Prudy series, the first of her six series for children and adolescent girls. She also contributed stories to other juvenile magazines, including Merry's Museum. From 1861 until 1903, Rebecca Clarke wrote forty-five books under the pseudonym "Sophie May": thirty-seven of these were series books; at least five of the others were also for children.
Her earliest successes and greatest fame came from the Little Prudy series and, later, from its offspring: Flaxie Frizzle, Dotty Dimple, Little Prudy's Children, and Little Prudy's Flyaway. All of these series were for younger readers (primary grades) and were episodic fiction, telling the adventures of several young children. Central characters were often related to characters in other series, so that the reader found Flyaway, Little Prudy, and Dotty Dimple appearing not only in the series which bore their names, but also in most of the other series. Generally, the books were short, running from 160-200 pages.[3] Each series was limited to six volumes.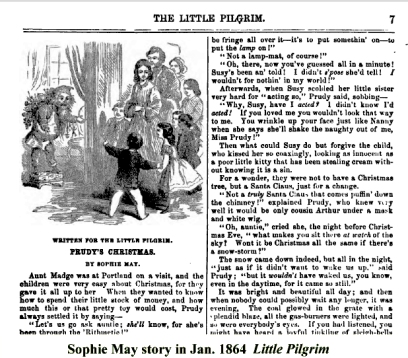 Reviewers praised the series for the "natural" qualities of the children: the younger ones were constantly creating chaos, getting lost, fighting with each other, or breaking toys or furniture. They also mispronounced words, a trait which some reviewers apparently felt made them even more "cunning." This does not mean the characters were all little demons: older children in the series did try to improve their characters, and younger ones were not encouraged in willful disobedience, though the destruction caused by ignorance was often treated gently. The books had didactic overtones, in that improper behavior, especially for older children, was regularly punished -- by everything from feelings of guilt to parental discipline to serious illnesses or minor catastrophes.
Little Prudy and Sophie May's other series appear to have been much loved-- or at least often reprinted--from their first appearance in the late 1800s through the early 1900s. Indeed, Little Prudy and the other series were still in print in 1912, almost fifty years after the original publication of the first three volumes.
Notes
1. This may have provided the idea for Helen's eye problems when teaching in Our Helen.
2. Lee & Shepard advertisement.
3. Short compared to volumes for older children. These ran 300-400 pages.
Biographical sources
American Authors 1600-1900: A Biographical Dictionary of American Literature. Edited by Stanley J. Kunitz and Howard Haycraft. New York: H. W. Wilson Co., 1938.
The National Cyclopedia of American Biography. New York: James T. White & co.
Who Was Who in America, with World Notables. 1943; rpt. Chicago: Marquis-Who's Who, Inc., 1968. Vol. 1.
Who Was Who in America, with World Notables. Chicago: Marquis-Who's Who. , Inc., 1968. Vol. 4.

Additional Biographical and Critical Sources
"Clarke, Miss Rebecca Sophia." A Woman of the Century: Fourteen Hundred-Seventy Biographical Sketches Accompanied by Portraits of Leading American Women in All Walks of Life. Eds. Frances E. Willard and Mary A. Livermore. Charles Wells Moulton, 1893.
The above contains a brief sketch, published during Clarke's lifetime, with an anecdote explaining the origin of her nom de plume and more information about her children's series. Click here to read the entry.
Doll, Carol. "Children of Sophie May." In Research About Nineteenth-Century Children and Books. Ed. Selma K. Richardson. Urbana-Champaign: U of IL, 1980.
---. "Rebecca Sophia Clarke (Sophie May)." Dictionary of Literary Biography. Vol. 42.
Johnson, Deidre. "From Abbott to Animorphs, from Godly Books to Goosebumps: The Nineteenth-Century Origins of Contemporary Series." Illinois Librarians' Association Conference. October 1997.
Kilgour, Raymond. Lee and Shepard, Publishers for the People. Shoe String Press, 1965.
"Sophie May." Maine Library Bulletin, Jan. 1929.
"Sophie May." In Just Maine Folks. Maine Writers Research Club, 1924.
Wood, Henrietta. "Rebecca S. Clarke (Sophie May)." Maine Library Bulletin, Jan. 1929.