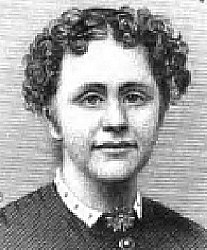 Margaret Hosmer
Only scanty biographical information has been found about Margaret Hosmer, and some of that appears dubious. The daughter of Thomas Kerr, she was born in 1830 in Philadelphia and, according to Appleton's Cyclopedia of American Biography, "was educated in the public schools of that city, [and] went to California in 1852." [1] In 1853, she married Granville Hosmer. At some point (but probably not 1860, the date given in Appleton's) she may have come back to Pennsylvania briefly and then returned to California. During her time there, she did some writing and teaching, but no documentary evidence has been found to support the claim she co-edited either the Alta California or Golden Era (with or without Bret Harte).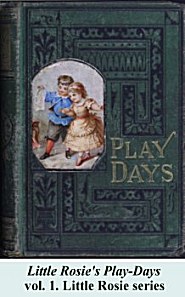 Beginning about 1863, Hosmer published stories and serials in several Philadelphia-based periodicals including Godey's Lady's Book, The Lady's Friend, and The Saturday Evening Post. Her first book, The Morrisons: A Story of Domestic Life, was published in 1864; her second, Ten Years of a Lifetime, in 1866. In 1868, she began writing for the American Sunday-School Union and the Presbyterian Publication Committee. The Dictionary of American Authors (1897) describes her as "A Philadelphia writer of Sunday-school tales," citing as examples of her work "A Chinaman in California; The Chinese Boy; The Little Captives; [and] Lonny the Orphan" [2]
In 1869, her only series for girls, the three-volume Little Rosie, was published by Porter & Coates, a Philadelphia firm. Little Rosie seems modeled on the Sophie May school of juvenile fiction, complete with a young protagonist who uses ungrammatical English and regularly engages in mischief which is often excused because of her youth. The following year, Porter & Coates issued her Under the Holly. A Book for Girls under the pseudonym "A pair of hands."
The 1870 census shows Margaret and Granville and their two daughters, Florence and Helen, settled in Philadelphia, with Granville working for the U. S. Mint. Hosmer continued to write articles and books: her entry in Appleton's, published during her lifetime, credits her with two novels and "about twenty-five volumes for juvenile readers." It does not mention the more sensational serials she wrote for Saturday Night under the pseudonym Grace Thornton, such as " Bertha the Store Girl; or From Country to City. A Story of the Perils of City Life" or "The Fatal Whisper!" [3]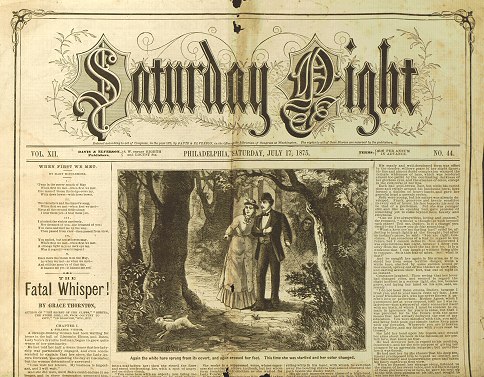 Hosmer's obituary in the Philadelphia Inquirer notes that her husband predeceased her and that she died "[s]uddenly, on Febrary 3, [1897] of pneumonia." She and her husband are buried in Mt. Moriah cemetery in Philadelphia. [4]
Notes
[1] Her entry in Appleton's -- which may have informed her obituary – contains several errors, but this part of the information appears correct.
[2] The American Antiquarian Society's catalogue cites the latter as Lenny, the orphan; or, Trials and triumphs (1869). "The Little Captives" may also be a misprint or an alternate title for her The child captives, which was originally published in 1870 and reissued in 1976 as volume 83 of Garland Press's Library of narratives of North American Indian captivities.

[3] Some issues of Saturday Night with installments of Hosmer's serials are online at Villanova University's Digital Library in the Dime Novel and Popular Literature Collection, including the opening of "The Fatal Whisper!" (vol. XII, no. 44).
[4] As of this writing, the Find A Grave entry contains correct information about Hosmer, her husband, and her sister Sarah Jane, all of whom are buried at Mt. Moriah, but the assertion that she had two brothers (William Reed Kerr and John James Kerr) has no documentary evidence to support it. Several family trees assign William R. Kerr a different parentage (which would mean he cannot be Margaret Kerr's brother).