Elizabeth M. Laws Hibberd (Faith Wynne)
Faith Wynne was the pseudonym of Elizabeth M. Laws Hibberd (whose surname is sometimes shown as Hibbard). As is frequently the case with 19th-century women authors, far more is known about the men in her life than about Elizabeth herself.

What is known is that she was born in Richmond, Indiana, in December 1836. Her father, John M. Laws, had moved to the area from Philadelphia and arranged work as a journeyman watchmaker. He and Joanna Plummer, the daughter of a successful local merchant and farmer, were married January 30, 1828, only 10 days after her seventeenth birthday. Soon after his marriage, John Laws changed occupations, becoming a merchant and at some point establishing his own business. The couple had at least eight children. Elizabeth was probably the second daughter; she may have had at least one sibling (possibly two) near her own age who died in childhood. [1]

Elizabeth's family appears to have been moderately affluent and her father quite successful at business. In 1850, John Laws's real estate was valued at $3500; it had almost doubled (to $6000) by 1860, and his personal property was valued at $10,000. At some point after 1860, he expanded his business to include the wool trade and made his son Joseph a partner, accordingly renaming the company Laws & Son. Tragedy struck in 1868, when father and son died within a few weeks of each other.

Elizabeth (or "Lizzie," as one source calls her) may have begun writing to supplement her own or her family's income, since her first book was published the year after her father's death. Although the 1870 census shows John Laws's widow still had an estate valued at $10,000, all but $1500 of that amount was in property, and her occupation was listed as "farmer," suggesting that the business had been lost with the death of both partners. Elizabeth, age 23, was still living at home, as were her four younger brothers. The census records raise interesting questions: her youngest brother, 13-year-old Franklin, was still in school, and 20-year-old Edgar was working as a "farm laborer." William, age 21, and Charles, age 17, however, have no occupation listed nor were they attending school. Were they physically unable to work or merely between occupations?

For whatever reason, Elizabeth adopted the pseudonym Faith Wynne and began writing the first volume in the Flossy Lee series, Flossy Lee. Two Philadelphia publishers -- J. P. Skelly & Co. and James A. Moore -- issued the book. [2] According to a catalogue annotation, it told about "Flossy Lee accompan[ying] her mother on a visit to her cousins' farm out west," a topic on which Elizabeth was well qualified to write. The story was favorably reviewed by the Philadelphia-based Godey's Lady's Book, which called it "truly delightful"; the reviewer felt it "enters with a charming earnestness into all the delights and grievances of children." The following year its sequel, Flossy Lee at the Mountains, appeared, again to a favorable reception. A review in another Philadelphia periodical, the North American and United States Gazette, included the following details:
Little Flossy . . . is here followed to the country, where her adventures with pollywogs accompany her studies of piety, and serious encounters with pigs and hens preface instruction in theology sprung from a blackberry party. As the summer was spent near where Mad Anthony Wayne attached his name to that of Stony Point, a little historical matter is interwoven. Thus the tale touches every point of juvenile aducation and attracts perusal to instill its lessons. It is well written.
One influence on Elizabeth may have been her uncle, John T. Plummer (1807-64), who was not only a physician but also an author. In addition to articles for medical and scholarly journals, he wrote a local history and may have contributed to Noah Webster's dictionary. It's tempting to speculate that he was also the means by which Elizabeth met her future husband, Dr. James Farquhar Hibberd. [3] The two were married April 20, 1871, and may have visited California together that spring. [4]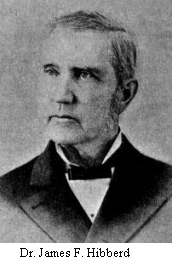 Marriage -- and perhaps the demands accompanying a change in family and social status --seems to have interrupted (and, for the most part, terminated) Elizabeth's writing career. By the time the couple wed, Elizabeth's husband, a prominent physician, was already twice a widower, with two sons, 26-year-old Elgar and 11-year-old Wilton. He had spent several years in New York and California, been to England and Italy as a delegate for the AMA, and published or presented papers as various medical conferences (winning a prize from the Massachusetts Medical Society for one of them). He continued to publish medical monographs throughout their marriage and, in 1875-76, even served as mayor of Richmond.
The 1880 census showed 43-year-old Elizabeth and 63-year-old James living at 50 North Fifth (Eighth?) Street with 21-year-old Wilton, who was working as a telegraph operator. Elizabeth may have done some occasional writing during this period, for one history of the town from the mid-1880s remarks that under "the nom de plume of Faith Wynne, [she] is a constant contributor to juvenile magazines and papers both of the East and West" and that she "does not confine herself exclusively to juvenile literature, but has written several serials for 'children of a larger growth.'" Despite this assertion, no articles by Faith Wynne have been discovered in online searches, and the only other publications attributed to her are The Little Red Stocking that Hung at the Gate: A Christmas Story, published in 1879 by the Daily Palladium Printing House of Richmond, Indiana, and co-authorship of The Doll's Own Book, illustrated by Flora Stigleman, probably circa 1879-80. [5] The Chicago Daily Inter-Ocean praised The Little Red Stocking in a review that also included a sample of Elizabeth's prose:
It is published in attractive form, and conveys a temperance sermon in a very impressive manner. We quote a single paragraph: "Ah, little boy, playing around your mother's knee, hedged in from all sin and trouble by holy mother-love, would to God the tempter might be kept from your paradise! The one who bends over your nightly couch and hears your nightly prayer, prays in her heart of hearts rather than these bright eyes shall grow bleared and dull, this delicate cheek bloated, this sweet lisping tongue become thick in its utterance, these buoyant little feet unsteady, this fair soul lose its whiteness, let this child of my love go from my arms out into the great unknown. Yea, though my heart bleed daily and hourly for a touch of a vanished hand, and the sound of a voice that is still."
Only the census records and biographical sketches of her husband provide additional information about Elizabeth's subsequent years. Dr. Hibberd continued his successful career, becoming County Health Officer in 1881, working to establish a state board of health, and, in 1894-95, serving as president of the American Medical Association. The 1900 census found the couple on North Eighth street (though not at no. 50), with Elizabeth's brother William as part of the household. Also listed were Christina Lichtenfelt, their housekeeper, and Catherine Hambidge, a seamstress, though whether the latter was a boarder rather than employee is not evident.

James Hibberd died in 1903. The 1910 and 1920 census both record Elizabeth as renting a home on Thirteenth Street, still with Christina Lichtenfelt as her housekeeper. Her date of death is not known, but she does not appear to be in the 1930 census.

Notes

1. Elizabeth's elder sister, Mary, was born circa 1828-30; her brother Joseph, circa 1831; her younger siblings were Clement (ca 1843), William (ca 1846), Edgar (1849), Charles M (ca 1853), and Frank (ca 1857). The 1840 census, which records only ages, shows one male under age 5 (who does not appear in the 1850 census and thus may have died in early childhood) and another age 5-10 (presumably Joseph), along with one female under age 5 (Elizabeth), another age 5-10 (either Mary or another sibling deceased before 1850), and yet another age 10-15 (again, either Mary or a relative, servant, or boarder).

2. The choice of a Philadelphia publisher may have been because her father was originally from Pennsylvania, and her mother's sister (Sarah Crampton Plummer) had moved to Philadelphia after her marriage. It's unknown whether there were any active family connections by 1869, however, since Sarah had died more than a decade earlier, and her husband, William Bancroft, had remarried.

3. John T. Plummer's "Reminiscences of Richmond History" is online via the Morrisson-Reeves Library. It seems probable that Plummer and Hibberd were, at the least, acquaintances, since both were physicians in Richmond with similar backgrounds: born in Maryland, members of the Society of Friends, and Yale graduates.

4. One source notes that Dr. Hibberd traveled to California in spring, 1871, "visiting some of the noted national wonders of that interesting state," which suggests perhaps the trip may have been some type of honeymoon.

5. The latter title is not in WorldCat and may have been distributed only locally.

Sources:

Information for this biography came from family trees at ancestry.com posted by C. Plummer, Helen Silvey, James D. Officer, and "Mary Ellen"'s Brookins Family Tree; from 1830-1920 census records; from The National Cyclopedia of American Biography, Benjamin Douglas, A History of Wayne County, Indiana: Together with Sketches of Its Cities, Villages and Towns (Chicago: Inter-state Publishing Company, 1884) and Andrew White Young, History of Wayne County, Indiana, from Its First Settlement to the Present Time (R. Clarke & Co., 1872); WorldCat; and reviews as cited.


Return to main page

Copyright 2007 by Deidre Johnson
Please do not reproduce on other pages without permission.