Increase Niles Tarbox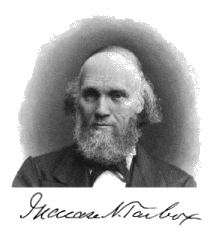 Increase Niles Tarbox was born in East Windsor, Connecticut, on February 11, 1815, to Thomas Tarbox (16 Feb 1776 - 1 April 1824) and Lucy Porter (20 Feb 1774– 4 May 1816). The youngest of six children (only four of whom survived childhood) Increase was orphaned at a young age. [1] He was barely a year old when his mother died, and age nine when he lost his father. Soon after his father's death, he was sent to live with an uncle -- who died when Increase was only fourteen, at which point he returned to East Windsor to stay with John Bissell and assist on his farm. [2] Despite these hardships, he gained enough education to acquire a position teaching school at age nineteen, and entered Yale two years later. After his graduation in 1839, he taught briefly at an academy in East Hartford, then, in 1842, returned to Yale as a tutor while studying at the Theological Seminary, graduating in 1844. He began ministering to his first parish at Hollis Evangelical Church (later Plymouth Congregational) in Framingham, Massachusetts, in August 1844. While in Framingham, he was also involved in education and literacy efforts, serving on the School Committee and as a Trustee of the Public Library. [3]
Increase Tarbox's publications date from his time at Yale. In 1838, he contributed a sketch to the Yale Literary Magazine. While at the seminary, he continued to write, publishing a piece in the first issue of the New Englander in 1843; during his lifetime, the New Englander printed more than two dozen of his articles and reviews. [4]
On 4 June 1845 Increase married Adelia (or Delia) Augusta Waters. (18 Jan 1820 - 7 Oct 1883), the daughter and sister of successful gun manufacturers Asa Waters, Jr. (1769 - 1841) and Asa Holman Waters (1808-1887). [5] Some years earlier, Delia's older sister, Harriet Newell Waters (1814-1864), had wed Yale alumnae and New Englander editor Rev. Samuel W. S. Dutton (1814-1866) and settled in New Haven. Delia visited her sister on several occasions "during . . . which sprang up the attachment" between Increase and herself. [6]
The Tarboxes' first child, Charles, was born on July 11, 1846, but "was sick a great deal" and lived barely three years. Two months after Charles's death, their daughter Susan was born on November 19, 1849; another daughter, Mary, was added to the family on October 22, 1851. [7]
While Increase's family life was changing, so were his professional obligations. In conjunction with Edward Beecher and Joseph Haven, Jr., he began his tenure as editor of the newly established paper The Congregationalist in 1849, leaving it in 1851, the same year he resigned his pastorate to accept the position of Secretary and Chief Actuary of the American Education Society (later the American and College Education Society). [8] The Society had been established in 1815 "to aid indigent young men of talent and hopeful piety in acquiring . . . [an] education for the Gospel Ministry." [9] By the time Increase joined its staff, the Society had given aid to several thousand young men. (Indeed, Increase had been one of its beneficiaries.) [10] He remained with the Society until 1884.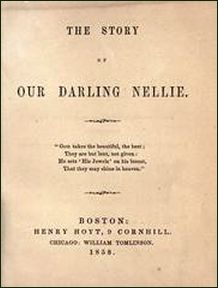 Although several children's books published anonymously in 1853 (specifically Child's Book of True Stories and The Mockingbird and Other Stories , both issued by Leavitt & Allen) are attributed to Tarbox, his authorship of those titles seems highly unlikely. The attribution appears to stem from the titles' inclusion in a publishers' series named Uncle George's Juveniles; a decade later, several of Tarbox's other children's books were published as Uncle George's Series, and at least one dictionary of pseudonyms then listed Uncle George as a pseudonym of Tarbox's (even though the books in Uncle George's Series carried his name on their title pages.) [11]
The first children's book clearly identifiable as Tarbox's work despite being published anonymously is The Story of Our Darling Nellie, issued by the Boston firm of Henry Hoyt in 1858. Sadly, Nellie is not fiction: it is a parent's loving account of the too-brief life of his young daughter, including her sudden death after being exposed to scarlet fever. Increase and Adelia's daughter Helen (Nellie) Jane Tarbox was born on February 26, 1854, and died of scarlet fever on April 7, 1858. Not only does The Story of Nellie parallel that situation (and include a reference to Charlie's death at age three) but it also concludes with a poem, "Nellie," a revised version of which later appeared in Tarbox's Songs and Hymns for Common Life (1885). [12]

Because it is biographical, The Story of Our Darling Nellie offers a glimpse of the Tarboxes' family life and of Increase as a father. Even before he began writing for children, he exposed his children to stories and nursery rhymes and encouraged wordplay and memorization. He recalls
[Nellie's] papa used often to say to her, "Now, Nellie, I will tell you the story of 'Little Johnny Pringle and his Little Pig,' or 'One misty moisty morning,' or some other one and then you tell it to me...."

... This was one of the pleasant rhymes that she used to like very much:

The north wind doth blow,
And we shall have snow,
And what will poor robin do then, poor thing!

He will sit in the barn,
And keep himself warm,
And hide his head under his wing, poor thing! [13]

Although Nellie was too young to read, Increase mentions several series books in her sisters' library, remarking,
If Nellie had lived a little longer, she would have enjoyed very much those beautiful books for children, -- 'Little Susy's Six Birthdays,' and 'Susy's Six Teachers,' and 'Susy's Little Servants' [by Elizabeth Prentiss]. Her sisters had read these through a great many times. The little sister next to Nellie, who was six years old, would read one of these books through as often as once a week and never get tired of it. [14]
The Tarbox children were also familiar with many rhymes and hymns, through school (for the older girls) and the Tarboxes' home library. One volume Increase specifically mentions and recommends is Songs for the Little Ones at Home (1852); published by the American Sunday School Union, the volume collected many previously published poems for children from a variety of sources and included such classics as "Mary Had a Little Lamb," Howitt's "The Spider and the Fly," and Watts' "How Doth the Little Busy Bee." Susan and Mary were expected to memorize and recite verses or hymns (or both) weekly for their parents. Nellie was allowed to contribute her own "hymns" -- which were "not in words, but which would go along with the same motion" and meter as hymns, thus developing her sense of the rhythm of poetic language. Additionally, family members narrated their own stories, recounting events they had witnessed or, in the case of the parents, providing informational tales about natural phenomena along with family history. [15]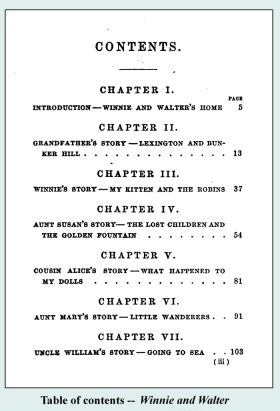 An awareness of his children's interest in stories perhaps encouraged Increase to try writing more children's books. In 1860, the Boston publisher J. E. Tilton & Co. published his children's series, the three-volume Winnie and Walter (again issued anonymously). Like the Tarbox family, Winnie and Walter's family entertain themselves with stories, and the first and third volumes are a collection of short pieces. Each begins with a chapter introducing the children's family, and the rest of the book is comprised of stories told by different characters, generally relatives, one per chapter. The titles of the two volumes, Winnie and Walter; or, Story-telling at Thanksgiving and Winnie and Walter's Christmas Stories, signal their structure. The second volume, Winnie and Walter's Evening Talks with Their Father about Old Times, adopts a slightly different approach: the children's father talks about his childhood and describes customs from the early nineteenth century. At least some of the material is directly drawn from Increase's own history; the narrator recalls his mother dying when he was only "about a year old." If the story told in the penultimate chapter is also autobiographical -- which seems likely since the narrator mentions being in Connecticut in 1824 -- then the young Tarbox traveled to see Lafayette when he passed through Hartford on his final visit to the United States, which perhaps contributed to his interest in American history. [16]
The Winnie and Walter books were favorably, albeit generically, reviewed in several publications. Godey's Lady's Book, for example, found them to be "Three very pretty holiday books for young children, containing stories which they will delight to read or listen to, and pictures which they will admire." (That one sentence constitutes the entire review.) [17] The Portland Transcript's reviewer, one of the few who included more specifics about the content, felt the "matter-of-fact stories" were "not quite so fascinating as fairy stories" but "a great deal more instructive." [18]
In 1860, the Tarboxes moved to West Newton, Massachusetts, where the census taker recorded the household consisted of 44-year-old Increase N. (a Congregational clergyman with personal estate valued at $1800), 38- year-old Delia, 9- year-old Susan, 7- year-old Mary, and their 24- year-old "domestic," Mary Lowe.
Increase followed the Winnie and Walter stories with another juvenile, When I Was a Boy: A Story of Real Life, published in 1862 by the Massachusetts Sabbath School Society. One of the few reviews seen, in The Independent, described it as "The autobiography of a Massachusetts boy" and found it "Too grave and didactic and reflective to be particularly interesting to children." [19]
In addition to contributing pieces to several journals (especially the New Englander and Congregational Quarterly), Increase continued to write books for religious publishers. In 1864, the Massachusetts Sabbath School Society issued his Ninevah; or, The Buried City,. Aimed at a general audience, its purpose was, as Tarbox explained in the preface, "to bring the wonderful discoveries which have been made within a few years at Ninevah and Babylon, familiarly before the minds of a great number of readers." [20] The next year, the American Tract Society published his The Curse; or, The Position in the World's History Occupied by the Race of Ham, arguing against slavery (and refuting the idea that dark-skinned people of various races were "cursed"), concluding by advocating that newly freed slaves become part of American society. (His article, "Universal Suffrage," published in the New Englander the same year, also argued for voting privileges for African-Americans -- but said nothing about women, such a concept apparently being beyond consideration.) [21] Tyre and Alexandria, the Chief Commercial Cities of Scripture followed, also in 1865, again issued by the Massachusetts Sabbath School Society. As he explained in the preface, Increase aimed for a dual audience -- not "young children . . . [but] the older members of our Sabbath-schools and of our Bible-classes," yet he strove for "a style so clear and simple that a bright-minded boy or girl of ten years will find no difficulty whatever in understanding the narrative." (Increase's philosophy for children's books is perhaps best summed up in a subsequent sentence: "To a healthy mind, truth, and especially such interesting historical truth as we have here sought to embody, is more satisfying than fiction can possibly be.") [22]
Before returning to writing children's books, Increase published another work for adults. Missionary Patriots: Memoirs of James H. Schneider and Edward M. Schneider. was issued by the Massachusetts Sabbath School Society in 1867. It is not, despite the title, about missionaries; it is rather the story of the sons of two missionaries (Benjamin Schneider and Eliza Abbott) who enlisted, fought for the Union during the Civil War, and died while in service. He also penned the occasional poem or hymn. (One example of the latter, written on the occasion of the dedication of a new parsonage in West Newton, was reprinted in The Congregationalist in 1868.) [23]
Increase's last set of children's books, the four-volume Uncle George's Stories from the Congregational Sabbath School and Publishing Society, appeared in 1868. It was a series in name only, consisting of the two-volume Rambles in Old Pathways plus two additional books, Uncle George's Stories and The Old Meeting House. They appear to have had limited circulation and garnered little notice: no reviews have been found, and few copies of most of the titles survive. The first volume of Rambles in Old Pathways (the only book in the series seen) is Bible study for the young; presumably, the second is as well. In the first chapter, Increase spoke of the pleasure of exploring old pathways at leisure, then explained what he "propose[d] to do in this little book": "to wind in and out among . . . old Bible scenes and stories, and show you some things which you may not have seen." [24] The second chapter provided geographical context for Bible stories, and the next four chapters covered Joseph (son of Jacob), "Other Slaves and Captives mentioned in the Bible, who rose to Influence in the Land of their Captivity," Ruth, and David before he became king.
After the Uncle George's Stories volumes, Increase appears to have focused his writing efforts on work for adults. The limited circulation of his last juveniles or other factors (such as receiving honorary doctorates from both Iowa College and Yale in 1869) and his children's growth into adulthood may have encouraged him to produce/pursue more scholarly fare. (The 1870 census recorded only his youngest daughter, then age 20, still at home with Increase and Delia -- and still attending school.) [25]
During the 1870s, Increase contributed numerous biographies and histories to the New Englander and the Congregational Quarterly. He also accepted a position as editor of the latter in 1875 and occupied it until 1878. His responsibilities at the American Education Society also increased: in 1873, it merged with the Society for the Promotion of Collegiate Theological Education, and in 1877 he became Secretary of the latter organization as well. [26] His only book from this decade appears to be Life of Israel Putnam ("Old Put"): Major-General in the Continental Army (1876), issued by the Boston publisher Lockwood, Brooks and Company.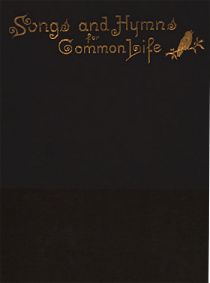 By 1880, both of Increase and Delia's daughters had married. The couple shared a home with their daughter Mary and her husband Freeborn F. Raymond (1851 - 1911). In 1881, Increase became historiographer of the New England Historic Genealogical Society, a responsibility he held until his death. As historiographer, he gathered information and wrote "Memorial Biographies" of recently deceased members, which were published regularly in the New England Historical and Genealogical Register. [27]
One of his last books was the privately printed Songs and Hymns for Common Life (1885), which, as he noted, was a collection of verse written throughout his lifetime (some of which had been previously published). The dedication was "Affectionately Inscribed to my daughters Susie Waters Carr and Mary Porter Raymond, in memory of their beloved mother." (Delia had died two years earlier.) The volume -- over 250 pages -- contained an assortment of poems, some from official ceremonies ("Dedication of Hitchcock Library Hall," "Church of Old Windsor, Conn, 1630-1880"); some reflecting on historical places and events ("Bunker Hill," "First Thanksgiving, 1621"); some tied to holidays ("Time for Thanksgiving," "Christmas Carols"); some religious ("Psalm VIII," "God in the Garden"); and a few recounting memories from his own life. The final poem in the book, "Death in Our Home," addresses his wife's death ("We list in vain for wife and mother treading/Her round of care and kindness day by day"); others that touch on his losses include "My Mother's Grave" and, as previously mentioned, "Nellie." [28]
Although a number of the poems in Songs and Hymns for Common Life are serious, some have a lighter touch. "Silver Wedding," subtitled "1845-1870" (and, thus, presumably referencing his and Delia's silver anniversary), surveys the years of marriage and various anniversaries, focusing not so much on reminiscences as the objects associated with them (paper, wood, tin, silver). Another set of verses in the collection, "Crinoline," shows a sense of humor, as the following excerpt illustrates:
Oh haughty, cruel Crinoline!
How you abused a friend of mine!
A straggling coil would catch and twitch her;
And mine the duty to unhitch her;
Nothing could manage to escape her,
She pulled at every chance door-scraper,
And I, the while, with modest cough,
Kept stooping down to let her off. [29]

Increase continued writing for the New Englander, and, in 1886, reviewed History of Andover Seminary based on a manuscript by Leonard Woods, father of series book author Harriette Newell Woods Baker, and completed by George S. Baker (Harriette Newell Woods Baker's son). The same year, Increase published the first volume of Diary of Thomas Robbins, D. D., 1796-1854, which he had edited and annotated; the second volume appeared in 1887. It was his last book. [30]
In late 1887 or early 1888, Increase traveled to the Carolinas, possibly with his cousin Seth H. Moseley (son of Increase's aunt Polly Tarbox [1782-1855]) and possibly to visit another relative. While in the South, he was "seriously ill," but seemed to recover on returning to Massachusetts. On May 3, 1888, he went to Boston to work with records at the New England Historic Genealogical Society to prepare additional necrologies. Feeling ill, he returned home early in the afternoon and died before the doctor arrived. [31] He was buried in Edgell Grove Cemetery in Framingham, Massachusetts. [32]
Notes
1. Luella33, Jackson Family Tree, Ancestry.com; Henry Porter Andrews, comp., The Descendants of John Porter of Windsor, Conn., vol. 2 (G. W. Ball, 1893): 461-62, 658-59; Henry Martyn Dexter, Sketch on the Life of Increase Niles Tarbox (David Clapp & Son, 1890): 3, reprinted from the New England Historical and Genealogical Register, Jan. 1890.
His siblings were Octavia (31 Jan 1801– 1 Jan 1804), Benjamin P (20 May 1804–24 Dec 1863), Thomas B (5 Feb 1806–16 Feb 1816), Lucy Woodworth (7 Apr 1810–11 Sept 1888), Lydia Harriet (26 May 1812 - 9 Nov 1864).
2. Dexter 4; "Benjamin Tarbox," Find A Grave. The uncle appears to have been his father's brother, Benjamin Tarbox (12 Feb 1778 - 18 Dec 1828). If so, during the time he stayed with his uncle, he also lost his aunt, Joanna Tarbox (1790-1826). "Joanna Tarbox," Find A Grave.
3. Dexter 4-6;
4. Dexter 12-15.
5. See "Our Story," Asa Waters Mansion for portraits of Delia's parents and a photograph of the Waters' home. For a history of the Waters family (primarily the male Asas) with portraits, see also Centennial History of the Town of Millbury, Massachusetts (1915): 462-74, Google Books
6. Dexter 7; DeeAnna Allum Granston, "Samuel William Southmayd Dutton," in "Dutton of Connecticut: Rare Images from the Album of Reverend Samuel William Southmayd Dutton 1814-1866," ancestry.com.
Increase and Samuel were apparently acquainted, possibly through their Yale or New Englander connections. The "Guide to the Dutton Family Papers," Yale University Library indicates that Increase corresponded with Dutton and his wife. After Dutton's death, Increase also wrote a biographical sketch for the Congregational Quarterly (Increase N. Tarbox, "Samuel W. S. Dutton," Congregational Quarterly 8 [April 1866]: 129-40, Google Books).
7. Andrews 658-59. Charles died September 12, 1849. Quoted material from [Increase Tarbox], The Story of Our Darling Nellie (J. E. Tilton & Co., 1865) :28; Charlie's brief life is described on pages 27-30, with the added comment that his "sisters had often been [to the cemetery] with their parents to see his grave" (31)
Susan died in 1930; Mary, in 1900 (Luella33, "Susan Waters Tarbox," Jackson Family Tree, Ancestry.com).
8. Dexter 7-10. Increase's replacement on the Congregationalist was none other than Henry Martin (or Martyn) Dexter (author of Sketch on the Life of Increase Niles Tarbox).
9. Constitution of the American Education Society, quoted in Jesse Brundage Sears, "Philanthropy in the History of American Higher Education," Department of the Interior, Bureau of Education, Bulletin No. 6, 1922 : 48. ERIC 540330
10. Natalie A. Naylor, "'Holding High the Standard': The American Educational Society in Ante-Bellum Education," History of Education Quarterly (Winter 1984) : 482, 493.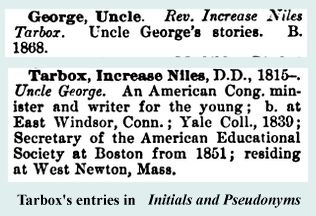 11. William Cushing, Initials and Pseudonyms: A Dictionary of Literary Disguises (Thomas Y. Crowell, 1885) may be the source of the confusion. The entry under pseudonym carefully identifies the specific title involved: "George, Uncle Rev. Increase Niles Uncle George's Stories B[oston] 1868." The entry under Tarbox's name, however, only lists "Uncle George" (presumably under the assumption readers would then consult the pseudonym entry for correct information).
12. [Increase Tarbox], The Story of Our Darling Nellie (Henry Hoyt, 1858); Increase Tarbox, "Nellie," Songs and Hymns for Common Life (Privately printed, 1885): 37-39.
Although Andrews gives Helen's death date as October 7, 1883, that is incorrect. She is buried next to her brother Charles, and the headstone is clearly visible in the image at tkent1234, "Helen Jane Tarbox," Find a Grave; she is also listed as "Nellie J" on her death certificate in Massachusetts, Death Records, 1841-1915, ancestry.com. As additional evidence that Tarbox was adhering faithfully to the details of his daughter's life, chapter two opens with the statement, "Nellie was born the last Sunday night in February eighteen hundred and fifty-four." As noted, Helen was born February 26, 1854; the 26th fell on a Sunday in 1854..
13. Nellie 19-20.
14. Nellie 27.
15. Nellie 18-28, 38-44; quoted material from 44.
16. [Increase Tarbox], Winnie and Walter's Evening Talks with Their Father about Old Times (J. E. Tilton & Co., 1860); quoted material from 108; Lafayette's visit, 122-130
17. "Literary Notices," Godey's Lady's Book 62 (1861): 83.
18. "Book Notices," Portland Transcript Nov 3 1860: 243.
19. "Editor's Book Table," Independent Aug. 7, 1862: 3.
20. Increase N. Tarbox, Ninevah; or, The Buried City, (Massachusetts Sabbath School Society, 1864): v.
21. "Universal Suffrage," New Englander 24 (1865): 151-67.
22. Tyre and Alexandria, the Chief Commercial Cities of Scripture > (Massachusetts Sabbath School Society, 1865): 3.
23. "The Prophet's Chamber" in Increase N. Tarbox, "Baxter Parsonage, West Newton, Mass.," The Congregationalist 10 (1868): 41
24. Increase N. Tarbox, Rambles in Old Pathways, Part I (Congregational Sabbath School and Publishing Society, 1868): 11-12.
25. 1870 United States Federal Census, Newton, Middlesex, Massachusetts; Roll: M593_630; Page: 172B; Ancestry.com. Increase's financial situation was presumably stable, but the census columns used to record the value of his real estate and personal property are both left blank, though that data is recorded for many of his neighbors. It is also possible that, although no estate value is recorded for Delia, she possessed money from her family. She left a will dated June 1878 which specified that "all the estate real, personal, and mixed of which I shall die seized or possessed or to which I shall be entitled at the time of my decease"; she also named her son-in-law, Samuel Carr, Junior, as executor. ("Delia W. Tarbox," Massachusetts, Wills and Probate Records, 1635-1991, Ancestry.com.) Why Increase was not given charge of her estate or its disbursement is unknown. Samuel Carr worked in a bank, which may have factored into her decision.
26. Dexter 11, 14, 16.
27. 1880 United States Federal Census, Newton, Middlesex, Massachusetts, Roll 546, Enumeration District: 475, Page: 75C, Ancestry.com; "Vital Statistics" [obituary], The Congregational Year-Book 1889 (Congregational Publishing Society, 1889): 39.
28. Increase N. Tarbox, Songs and Hymns for Common Life (Privately printed, 1885); quoted lines, 258.
29. Tarbox, Songs 251.
30. Earlier, Increase had written a biographical sketch of Robbins for the New England Historical and Genealogical Register which was issued as a booklet, Thomas Robbins, D. D.: A Biographical Sketch by John Wilson and Son in 1884.
31. Dexter 20; "West Springfield," Springfield Republican, May 13, 1888: 6; "Increase N. Tarbox," New Haven Evening Register, May 4, 1888: 1; [Obituary], Christian Union May 10, 1888: 581. Although most obituaries say Increase had been in South Carolina, Dexter -- who received a letter from Increase while he was in the South -- says it was North Carolina and specifically mentions Kittrell. An item in the Springfield Republican also gives North Carolina as the destination and names Seth Moseley as a relative accompanying Increase; the Republican's source of information may have been a local resident, Samuel Moseley, also a relative.
32. tkent1234, "Rev Increase Niles Tarbox," Find a Grave. Adelia is in the same cemetery (tkent1234, "Adelia Augusta Waters Tarbox," Find a Grave). The Find a Grave websites have photographs of both grave markers.