Sarah Cook Stuart Robbins
Born in 1817, Sarah Cook Stuart grew up in a world filled with religion, books, and authors. Her father, Moses Stuart, was a professor at Andover Theological Seminary and was devoted to his teaching and research. He published numerous religious works, primarily Biblical commentary, along with one of the first (and most respected) Hebrew grammars printed in the United States.[1] Sarah Stuart later remembered that, as children, she and her siblings "looked with awe upon the piles of manuscript written in the neat, characteristic handwriting of our father." [2] Her older sister, Elizabeth Stuart (Phelps) (1815-52), studied with author Jacob Abbott during her teens and later became the first woman to write girls' series, imbuing her fiction -- for children and adults -- with religious overtones. (She is perhaps best known for The Sunny Side; or, The Country Minister's Wife and A Peep at Number Five -- the latter offering another account of a minister's wife). Her youngest sister, Abigail Stuart Anthony, also may have authored children's books. [3] Were that not enough, Sarah Stuart later reminisced that on the lot next to the family home, "there was built in 1832 a brick building called the 'book store.' . . . Successive firms of printers made it their headquarters; and there many of our father's books were published," thus further surrounding her with books and reminders of family productivity. (Old Andover Days 16-17).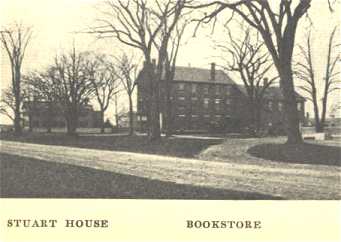 A middle child, Sarah was one of seven children born to Moses and Abigail Stuart. [4] She attended a girls' school in Andover with a heavily religious bent, recalling, "We were early taught to read and spell accurately; and we were not backward in our arithmetic or geography. We had occasionally what would now be called lectures in astronomy and even botany....Whatever else may have been omitted, be sure we were well taught in the 'Westminster Shorter Catechism'"
(Old Andover Days 57).
Stuart probably met her future husband Rensselaer David Chanceford (R.D.C.) Robbins circa 1838-40. After completing his studies at Middlebury College in Vermont, Robbins arrived at Andover in 1838 and graduated three years later. He remained at Andover for the next ten years, studying "classical and sacred literature" (undoubtedly under Moses Stuart's tutelage), working as a librarian, and even publishing a translation (from German) of E.W. Hengstenberg's Egypt and the Books of Moses in 1843. In 1848, the year Sarah's father retired from Andover, R.D.C. Robbins was offered a position in Greek at Middlebury. He and Sarah were married in Andover on July 22 before moving to Vermont. Although they had no children of their own, by the 1850 census, the two were apparently raising their 5-year-old niece, Samantha E. Muzzy. (Samantha's parents, Rev. Clarendon Fay Muzzy and Samantha Robbins Muzzy -- R D C's older sister -- were missionaries in Madura, India when Samantha died in 1846. Rev. Muzzy remained in India after his wife's death.) [5] Ten years later, the census showed that 18-year-old R[ensselaer]. C[larendon]. Muzzy, also born in India, had joined 15-year-old Samantha in the Robbins' home. Tragically, cemetery records show he died later the same year. [6]
During this period, Stuart began publishing her first books, perhaps inspired by her late sister, perhaps by young Samantha's presence. Considering her background, it's perhaps not surprising that her earliest book publication, Cathedrals of the Old World from 1857, was issued by a religious press, the Massachusetts Sabbath-School Society. Several years elapsed before her next work, the initial volumes in the Win and Wear series (1863-66).[7] During the late 1860s, she usually completed several books annually, even writing the entire six-volume Butterfly's Flight travel series in 1869. Her husband was also doing some publishing during this period; one item was a revised and edited edition of (the late) Moses Stuart's Commentary on the Epistle to the Romans. [8]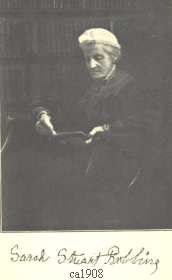 Robbins completed two additional series during the 1870s. By 1880, she and her husband had relocated to Newton, Massachusetts, and were now living alone. He died in Newton Highlands, November 3, 1882.
After a gap of several years, Robbins resumed writing, with her final two series, The Gilettes and Rock Cove, issued from 1885-90.
In 1908, Robbins published her last book, Old Andover Days, reminiscences of her childhood and of notables living in Andover. By 1910, the year of her death, Robbins was living in Massachusetts with two grand-nieces, Elizabeth R. and Mary S. Hooker. She died in Andover on August 16.
Notes
[1] Charles C. Torrey, "The Beginnings of Oriental Study at Andover," The American Journal of Semitic Languages and Literatures 13 (July 1897): 251-58. Torrey describes Stuart's publications and teaching at Andover, noting his "name stands second to none among the founders of Hebrew learning in America" (254).
[2] Sarah Stuart Robbins, Old Andover Days: Memories of a Puritan Childhood (Boston: The Pilgrim Press, 1908), 164. Most of the available information about her childhood is found in this volume. Future references parenthetical in the text.
[3] Annie Sawyer Downs, "Historic Andover," New England Magazine 20.4 (June 1896): 505 Downs writes "Two of [Elizabeth Stuart Phelps's] sisters, Sarah and Abby Stuart, later Mrs. Robins [sic] and Mrs. Anthony, both wrote juvenile books which had a large circulation." No books by Abigail Stuart Anthony have yet been found in WorldCat. The article is accessible via Making of America (Cornell).
[4] In Old Andover Days, she writes that "Seven children, three boys and four girls, soon filled [the] commodious house." Massachusetts birth records from ancestry.com show only five of Sarah's siblings: James Clark Stuart (b. April 30, 1811), Moses Brown Stuart (b. April 17, 1814), Elizabeth Wooster Stuart (b. December 10, 1815), Mary Ann Stuart (b. March 8, 1821), and Abigail Clarke Stuart (b. December 7, 1823).
[5] The Windham County, VT (US GenWeb) records and Virtual American Biographies (which misspells his surname as Robbinn) provide biographical information about R.D.C. Robbins. Born in December 23, 1811, he was the son of David Robbins, a teacher and county surveyor of Middlebury, Vermont, who "died in the great sickness of 1813," leaving RDC and his older sister orphaned. RDC nonetheless managed to acquire sufficient education to become a teacher, attend Middlebury College (graduating in 1835), then spent two years teaching in the south and at Royalton before enrolling in Andover.

During the 1840s The Missionary Herald included reports on the Muzzys' activities in India -- and the notice of Mrs. Muzzy's death.
[6] Inexplicably, though, the records show he was only 16 at the time of death.
[7] Or, perhaps more accurately, the 1857 date is the first known Robbins title and the 1863 volume the next identifiable one; Robbins sometimes published anonymously, so untraced titles may still remain.
[8] Sarah Stuart Robbins lost both her father and older sister in the same year, 1852.