F. B. Smith (Frances Irene Burge Smith Griswold)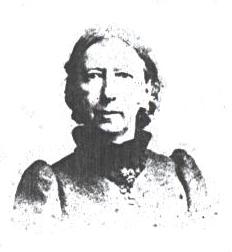 The scanty biographical information on Frances Irene Burge Griswold allows only an outline of her life. Born in April 1826 in Wickford, Rhode Island, she was the daughter of an Episcopalian minister, Rev. Lemuel Burge, and his wife, Elizabeth Frances Shaw (ca1798-1879). Her biographical sketch in Woman of the Century notes she "grew to womanhood beneath the historic shades of St. Paul's Narragansett Church, of which her father was for twenty years the rector."[1] Rev. Burge occupied a prominent position in town; in addition to his office in the church, he was elected to the town's first school committee in 1828 and then chosen its chairman and charged with examining prospective teachers. [2] He was also, however, a loving father with time for his children, and figures prominently in the general reminiscences Burge published about her childhood.

Frances had several older siblings, including Anna, born in 1821, who married George Thomas and died 27 August 1845; Elizabeth, born June 1822; Julie, born November 1826; and at least two brothers, John Henry Hobart, born 12 August 1823; and William James, born April 21, 1831. William James, educated locally at the Washington Academy, later became a doctor as did his brother, John, who studied with their maternal grandfather, Dr. William Gorham Shaw and later at Harvard and the University of the City of New York. [3] At various times, the household also expanded to hold boarders, for, to supplement his income, Rev. Burge "took in to his household young gentlemen for education. Among these were Charles Smith, the stepson of Bishop Griswold, and Thomas Fayles." [4]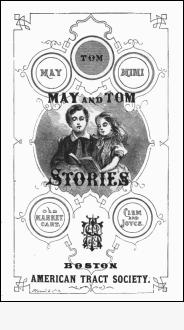 According to several sources, Frances Burge's first publication was in 1853. This may have been poetry or a piece in a newspaper or periodical, for her first book appears to have been Elm Tree Tales (consisting of three stories, "Jennie Grigg, the street sweeper"; "Nannie Bates, the huckster's daughter"; and "Archibald Mackie, the little cripple"), in 1856. By that time, she had married Allen N. Smith, of Stockbridge, Massachusetts, and Elm Tree Tales was published under her married name. Burge continued writing, sometimes using variations of her name: "F. Irene Burge Smith"; "F. Burge Smith"; "Mrs. Frances I. Burge Smith"; "Mrs. Fanny I. Burge Smith"; "Mrs. F. B. Smith"; and even "Fan Fan." In 1860-61, she edited the Ladies' Wreath annual and published Nina, or, life's caprices. A story founded upon fact (1861), with an "Introductory account of the Church Charity Foundation", by Thomas T. Guion. In the 1860s, Frances Burge also began writing for children. Many of her juveniles were of a religious nature and several, including the ten-volume Fanfan Stories (1863), and five-volume May and Tom Stories (1869-70) were published by the American Tract Society. She adopted the pseudonym S. B. Phelps for another adult novel, Sister Eleanor's Brood -- possibly because, according to Woman of the Century, this "story of the lights and shadows of a country clergyman's family life . . . is understood to figure under a thin veil of fiction the actual experience of her mother."
In 1864, Burge's father died. He had been transferred to New York in September, 1858, serving in Brooklyn, Flatbush, Fort Hamilton, and the vicinity. Burge writes cryptically that "It was while pursuing his route home from New York, after a visit to a married daughter there, that on Broadway, near Chambers Street, he was knocked down by an express wagon, and received the injury which in two weeks ended his earthly career." [5] It seems possible -- though not certain -- that she was the daughter involved.
After the death of Allen Smith, she married "her distant kinsman Judge Elias Griswold of Maryland"; the couple lived in Brooklyn and, by 1893 (the time of her biographical sketch in Woman of the Century), Mrs. Smith was again a widow, residing in Brooklyn near her family and still writing. The 1900 census found her back in Rhode Island, living with her sisters Elizabeth and Julie, both of whom had never married. Her last book, Old Wickford: "the Venice of America", a history of her hometown, was published in 1900. She died 11 November 1900 and was buried in Wickford, with the gravestone inscription, "Alive unto God, through Jesus Christ our Lord." [6]
Notes
1. "Griswold, Frances Burge." A Woman of the Century. Ed. Frances Elizabeth Willard. Buffalo: Moulton, 1893.
Her father had come to the area in 1817, to serve the parishes of North and South Kingston. He was ordained in 1820 and, on June 6th of the same year, married Elizabeth Frances Shaw. They initially occupied Glebe House, but some time after the birth of their first child, moved to Wickford. (F. Burge Griswold, Old Wickford: "The Venice of America" [Milwaukee: The Young Churchman Co., 1900]: 169-72).
2. USGenWeb RI Articles, Town of North Kingstown

3. USGenWeb RI Articles, The Profession of Medicine contains a biographical sketch for William James Burge that also mentions his brother. "Inscriptions in the Graveyard of The Old Church Wickford" at North Kingstown, Washington Co., RI, Inscriptions shows a headstone for Anna [Burge] Thomas.
According to John's obituary in the March 26, 1901, Brooklyn Daily Eagle, he moved to California in 1849 and founded the first hospital in Sacramento. At the time of his death, he "had been for many years consulting physician of hte Long Island College Hospital and St. John's Hospital . . . a member of the Kings County Medical Society, the Neurological Society and the Pathological Society, and . . . a charter member of the Practitioners' Club." He was survived by his wife and four children.
There may have been another sister, married to Governor or Lt. Governor William Greene, for a 1900 comment by Burge alludes to "the late Gov. Wm. Greene, and Mrs. Greene, who was a daughter of Mr. and Mrs. Burge" (Griswold, Old Wickford: 224).
4. Griswold, Old Wickford: 173.
5. Ibid, 179.
6. "Inscriptions in the Graveyard of The Old Church Wickford" at North Kingstown, Washington Co., RI, Inscriptions
Copyright 2004 by Deidre Johnson. Please do not reproduce elsewhere -- including ebay listings -- without permission.