Commentary on the Gypsy Breynton series:
Excerpts from Elisabeth Whitcomb Swinchoski's unpublished manuscript,
"An Inquiry into the Life and Character of Elizabeth Stuart Phelps Ward
as seen through her autobiography, a biography, fourteen short stories and fifteen novels" (1969).
Reproduced online courtesy of Margaret Swinchoski. Images added.
THE REVIEWER -- CRITIC AND HER BACKGROUND
[prefatory material: excerpts, pgs. i-ii]
. . . In 1940, when I was seventeen, I discovered the Gypsy Breynton books in the public library, consulted the card catalog and found many of Elizabeth Phelps Ward's books there, some of which had been consigned to the "duplicate room", a dungeon reserved for books no longer in active circulation, as well as for duplicates. (Over the years all the rest of Elizabeth Phelps Ward's books have been so condemned. Thus she could be considered a forgotten author.)
Most of these books I loved, read and re-read that whole spring (a leisurely time as I had finished high school mid-year and was waiting for college) and from time to time have picked up in second-hand bookstores over half of her novels. I felt I knew and loved her as well as if I had been a friend during her lifetime, and the whole atmosphere of her upbringing as reflected in her autobiography seemed almost as real as my own, and not too divergent, allowing for the difference in time and place. . . .
IV. THE GYPSY BREYNTON BOOKS (1866)
[excerpts, pgs. 42-60]
Since Elizabeth Phelps Ward was only twenty when she wrote this series and since she had two younger brothers besides the very small step-brothers, it is likely that some of the incidents and dialogue were from her recent childhood memories.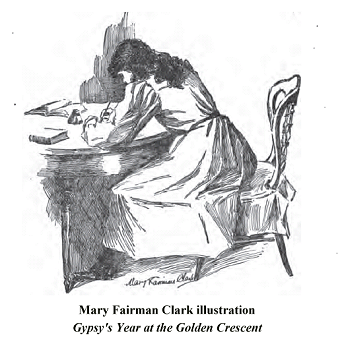 Was the author herself Gypsy? One is tempted to think so upon reading Chapters from a Life, her autobiography, when she said, "I was still making burr baskets, or walking fences, or coasting (standing up) on what I was proud to claim as the biggest sled in town, down the longest hills, and on the fastest local record . . . " (p. 59). She later reverted to this theme when she claimed, "I was an out-of-door girl, always into every little mischief of snow or rainfall, flower, field or woods or ice; but in spite of skates and sleds and tramps and all the west winds from Wachusett that blew through me, soul and body, I was not strong . . . " (p. 60)
However, throughout the series she repeatedly referred to the real Gypsy as if Gypsy were someone she herself had once known.
The editions of 1894 are illustrated by Mary Fairman Clark, who drew in a style similar to Reginald Birch. But she used costumes of her own time, which, while attractive, do not go with a Civil War story. An edition of Gypsy's Year at the Golden Crescent, dated 1876, has illustrations which, while reflecting the period, are poorly done.
As "Sunday School" books these rank very high; most were poor fare indeed. As far as series books go these are among the best. And each of them as individual juveniles excels in a number of ways.
First is the natural and sprightly dialogue, not stilted and literary like most non-dialect speech of the time as recorded in fiction. It would compare favorably even with Little Women on this point.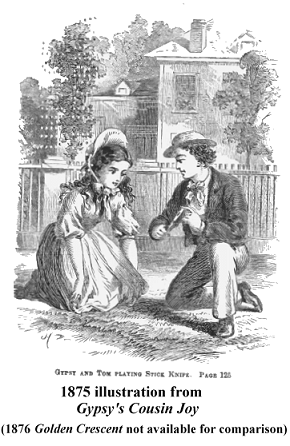 The "morals", while admittedly there, were given a subtler handling than usual in books of this period and were not stretched for forced.
Then the characters are more real than those in most children's books of the nineteenth century. Gypsy herself is best introduced by the author in a preface to an edition of 1894, thirty years after the first edition.
I was hardly more than a girl myself when I recorded this young person. . . . I see a lively girl in pretty short dresses and very long stockings -- quite a Tom-boy if I remember rightly. She paddles a raft, she climbs a tree, she skates and tramps and coasts, she is usually very muddy and a little torn. There is apt to be a pin in her gathers; but there is sure to be a laugh in her eyes. Wherever there is mischief, there is Gypsy. Yet wherever there is fun, and health, and hope, and happiness -- and I think wherever there is truthfulness and generosity-- there is Gypsy, too. . . .
Only one thing I do know; Gypsy never grew up to be 'timid', or silly, or mean, or lazy; but a sensible woman, true and strong asking little help of other people, but giving much; an honor to her brave and loving sex, and a safe comrade to the girls who kept step with her into middle life. . . .
Gypsy's father was a bookseller in a "country town" in Vermont, called Yorkbury. Yorkbury is difficult to identify with any particular town; it must be large enough to have a tenement district and a bookstore, but did not seem to have a college. To shop one would go north to Vergennes, which seemed to be between her home and Burlington. It was not in the mountains but apparently near Ripton and a Rattlesnake Mountain. (There is a Snake Mountain near Ripton[.]) How the author became familiar with Vermont, whether she visited there one summer or had merely read about it is uncertain, but she wrote convincingly. [Handwritten addendum:] (She probably visited a number of times over the years in the home of her Aunt, Sarah, a younger sister of her mother and her Aunt Mary. Mrs. Rennsslaer David Chanceford Robbins was the author in 1908 of Old Andover Days. Her husband taught languages at Middlebury College, Middlebury Vt., so that is evidently the setting of the "Gypsy" books.
Each volume contains separate yet continuous stories about Gypsy. The pattern is frequently -- not always -- that Gypsy got into mischief, was sorry, and with the help of one parent or some one else learned a lesson from it.
Gypsy Breynton begins with a mischievous prank played by her sixteen-year old brother Tom, ridiculing the condition of her room, which apparently had not been "picked up" or dusted for many weeks. The appearance of the room, listing what items were where is sure-fire appeal for children, who will remember their own neglected rooms.
Tom's prank made her laugh, but she spent the evening putting the room to rights and thereby unearthing family items that had been missing for months. This story also contains a suggestion that would help children in similar circumstances -- first put things in order generally on the surface, then spend time with drawers and shelves and closets. Gypsy learned that it is better for morale than letting the mess remain while picking up or arranging beads or other small articles. . . .
. . . .
Confessing breakage due to carelessness, adopting a thankless old invalid in the slums and taking meals to her three times a day were other endearing characteristics of Gypsy's.
Then with the tactful help of her mother she made a discovery in the same tenement. Nineteen-year old Peace Maythorne had for three years been a patient suffering invalid dependent upon her aunt. She had been a mill girl hurt in a fall on the steps. From her Gypsy learned many a lesson in faith and patience. (Did the author know someone like this? Possibly a mill girl injured in the fall of the Pemberton Mills? In her autobiography, Chapters from a Life, she spoke of someone who might possibly qualify. "A life-long invalid, herself a brave, patient, unselfish woman; absorbed in interests outside of her own suffering and more useful to the world than most healthy people.") (p. 234)
. . . .
The first volume ended with a trip to Boston where Gypsy visited with her wealthy aunt and uncle and cousin Joy, a thoroughly spoilt girl.
This chapter, written twelve years before Louisa May Alcott's An Old-Fashioned Girl, is very similar to it in theme -- the country cousin, a tomboy, dressed plainly, and the city cousin, pampered and overdressed. There was misunderstanding and conflict from the beginning over what Gypsy was not allowed to do, such as trying to help a crying lost beggar child find its way home.
Sent to her room in disgrace and sure that charity was always right, she rebelliously ran away home on the train by herself. But once home, and able to think about her conduct with the help of her mother, she realized that while they had been unkind to her, she had been rude to them. She promptly wrote an apologetic letter inviting Joy to visit her.

Gypsy's Cousin Joy was a natural follow-up. Before Joy came to visit, her mother became very ill and Mrs. Breynton went to help take care of her sister-in-law. Soon Gypsy's mother wrote that Aunt Miranda had died. Upon her return she asked her children whether they would accept Joy as a guest for six months or a year while her father took a business trip abroad.
Gypsy and Tom were distressed, but felt sorry for Joy and with difficulty resolved to accept her. (This episode might possibly have suggested to Kate Douglas Wiggin the advent of Julia in Mother Carey's Chickens (New York: Curtis, 1910). Julia was not quite the same person as Joy, but was quite objectionable.)
Some of the problems Gypsy encountered involved sharing space with Joy, hearing Joy speak of her mother without regret or love, and letting Joy have the outside of the bed. . . .
. . . .
[Later in the book], after a quarrel, Gypsy and Joy "made up" and began to feel more like sisters. But then Joy bought an expensive Christmas present for Gypsy's mother, while Gypsy had only a homemade picture-frame for her mother. (In this connection Mr. Ticknor was mentioned as a friend of Joy's father. He was evidently the founder of the Ticknor publishing house that was the forerunner of Houghton and Mifflin Company. Fields and Osgood, one of several intermediate names, was the publisher of her first adult novel in 1868 and, as Houghton Mifflin, published most of her later books.[)]
Gypsy wanted to give Peace a present of colored yarns with which to crochet salable articles instead of sewing, which pained her. Gypsy's mother helped her to arrange a shared gift, whereby Joy gave the wool and Gypsy the crochet needles and patterns. Gypsy also made a beautifully lettered text for Peace's room: "And the inhabitant shall not say 'I am sick'", meaning that there will be no sickness in Heaven.
Gypsy, Joy, Tom, and an older friend went on another camping trip. The girls got lost and were trapped in a ravine in a forest fire. Gypsy, although able to save herself, could not save Joy, but would not leave her. Then a rain that had been threatening all day suddenly broke and saved them. Otherwise Tom and Mr. Breynton, who came looking for them, would have been too late.
This act of self-abnegation on Gypsy's part sealed their bond of close friendship, and the differences after that were of less importance.
Mr. Breynton took Tom and the girls on a trip to several large eastern cities. This was more interestingly written than most travelogues of that type because it was told in letters, a fashion of the time, and consisted of Gypsy's enthusiastic outpourings. . . .
. . . .
Gypsy's Sowing and Reaping opened with even more humorous dialogue, but its tone changed as it was revealed that Tom was going away to college and they realized that their childhood together was over. (Tom and Gypsy seemed to have a very close relationship -- too close -- like Roy and Mary in The Gates Ajar. Did the author and her brother Stuart have such a friendship?)
Tom was anticipating his college expenses, foreshadowing that he was expecting to spend a great deal of money.
Sewing, mending, baking, packing and a pleasant, quiet Sunday followed, then he was off with all sorts of admonitions, not only from his parents but also from Gypsy. . . .
Correspondence flourished, then languished. When Tom came for vacation it was apparent that he had not been studying; he had been out evenings with his friends. In his trunk Gypsy saw cigars and a "pony" (a literal translation used for illicit help in Greek or Latin) as well as texts to catch up on his studying. But to comfort Gypsy he let her keep the book for him to use only occasionally.
Mr. Breynton at this point came out of the background of the story and showed himself a nervous worrier, harassing Tom about his school work to the point of rebellion. "He knocks out all the sorry there is in me," complained Tom. (This does not seem at all like Austin Phelps as portrayed in Chapters from a Life. Could the author possibly have switched roles and given Mrs. Breynton her father's nature and imputed her stepmother's personality to Mr. Breynton? Another possibility is that as the story unfolded it became increasingly clear that the original of Gypsy was a friend, perhaps from her school days, and the author may have visited her in Vermont, and known her parents.)
Gypsy was a help in getting Tom to smoke less, after his father had antagonized him. Upon learning that he was going to a billiard parlor with an undesirable friend, she left a singing-school, went home and mounted their old horse to intercept them and managed to influence him to come home. But another night he went out with the same companion without her knowledge. At midnight he came in drunk and she helped him get to bed so their parents would not know.
Next day she had a talk with him and got his reluctant promise that he would not do so any more. But when he returned to college there was a new problem. Gypsy wrote twice a week and Tom kept his promise, but began wasting money betting and writing Gypsy for more. The author raised a question about whether it was right in Gypsy to conceal her brother's prodigality, but credited her with generosity. . . .
. . . .
At spring vacation Tom and Gypsy were on a picnic with friends when Tom fell and sprained an ankle. So he could not go back to school for awhile. Gypsy read to him, kept him company and ran errands for him when she would rather have been out playing. (Had Louisa May Alcott read this when she wrote Eight Cousins in 1879?) But before he returned to school it became apparent that instead of paying his tuition he had spent the money on clothes, his latest vice. And near the end of the term he enlisted, as a face-saving device, because he was not passing at school. (One might wonder what was the academic standing of Lt. Samuel Hopkins Thompson? [*] Would he have graduated had he remained or were his grades too low, like Tom's?) . . .
Gypsy had a dream in which her parents were dead, Tom was a rabbi, [her younger brother] Winnie studying for the priesthood and she and Peace [Maythorne], still an invalid, were Jewish girls living near Jerusalem. Jesus came by and cured Peace. She arose to go and thank him but did not return.
Walking briefly Gypsy heard horses and saw the doctor's carriage rushing by. In the morning she learned that Peace had only a little while to live, and went to tell her good-bye. Peace assured her,
"'Don't think I'm going to forget you. Why, I shall thank Him for you one of the very first things.'"
Together they looked at the colorful motto Gypsy had made and talked about how Peace would be well and happy in Heaven. Aunt Jane, hardened by poverty and hard work, had waited until the last to say a kind goodbye to Peace. (But she was too late.)
This scene was very moving. Here it is evident that the author was already thinking out her ideas of Heaven that she began to express within the next two years.
Then a telegram came, stating that Tom was seriously wounded. Their mother was not well enough to go, but Gypsy and her father went to Washington and found that Tom was out of danger, but that it would be six months before he could recover complete use of his shoulder. Tom had grown up enough to decide to go back to school
(Nowadays the attachment between Tom and Gypsy would be regarded as abnormal and alarming, but the author was very young, very innocent, very Victorian. The whole idea may have been her notion of the type of relationship that could and should exist; perhaps she and Stuart were not particularly close, and in any case, he was younger than she, not older. There is a better possibility. Could Tom, who seemed something like Roy in The Gates Ajar, have been a delineation of Lt. Thompson? Her heart must have been full of him as she wrote these books.)
Gypsy's Year at the Golden Crescent began like the first book, with a minute description of the contents of Gypsy's disordered room. But not because she never cleaned it; it was because she was packing to go to boarding school.
(Boarding school stories were rife in the next generation or two, but the present writer knows of none earlier than this except Tom Brown's School Days (1857) and Tom Brown at Oxford (1861). There is slight evidence that she may have read both of these. It will be presented later. What could the author know of boarding school life? Only that she was a day-scholar at a boarding school, and had associations with the boarders. For her fertile imagination that would be sufficient. In fact, the original of Gypsy could have been a Vermont girl enrolled there; Elizabeth Phelps Ward may have visited her home during holidays.)
A casual reference to Heaven is worthy of note in the light of the author's later writings, "She feels these things and remembers them with . . . a sensation as if she were going up to heaven to find something sublimely superior to them all, yet with a wistful tenderness clinging to the tried and proved". (p. 27) This, along with what was written in the previous volume about Peace Maythorne shows that already her thoughts on Heaven were gathering, ready for expression.
Gypsy's last night at home was comparable to Tom's before going to Yale. Her resolves were high as far as concerned loving her mother, not doing anything she would not approve of, and remembering to pray, but how about the "scrapes" and the study? Would she really do any better than Tom?
"It was a day's journey to the little Massachusetts town of Snapberry. You did not know that there was such a town? Very well, find it on the map if you can. It is there, whether you find it or not; only it happens to be a little differently spelled." (p. 33)
Gypsy's first impressions of the school and her classmates were written as letters to her mother in Gypsy's own inimitable style.
(Annie Fellows Johnston, author of The Little Colonel Series (Boston: L. C. Page, 1895-1912), had evidently read this book because the pattern is very similar, much more so than for other boarding school stories. Maude Clare, the ideal lady-like girl whom Gypsy admired so much corresponds closely to Ida Shane in The Little Colonel at Boarding School (1904) and there are also the themes of a masquerade and a runaway marriage, as well as a secret society gone wrong, although they are handled with enough individuality that it does not seem in any sense copywork.)
Several of the girls formed a club ostensibly called The Evergreen Sisters (though really meaning Eating Society) and wearing little gold stars as emblems. (It is possible that one or more of the founders of the present writer's college sorority, Delta Delta Delta, founded at Boston University in 1888 may have been influenced in choice of emblems by this book. Here are a golden crescent, really an arc of maples behind the school which turn yellow in the fall, evergreen and stars, while the Tri-Delta pin consists of a gold crescent moon holding three stars; the pine tree is one of the symbols. The Gypsy books were a Sunday-School series and it is well known that the founders were very religious girls. The chief founder, Sarah Ida Shaw Martin, has written an account of how she selected these symbols [Note 7: The Trident of Delta Delta Delta. Menasha, Wisconsin: George Banta. Fall, 1963, 75th Anniversary Issue. pp. 6-8.] without any mention of Gypsy, but nevertheless the chances of her having read the Gypsy books are very strong, and it is conceivable that, however honest and sincere she might be, she would rather not leave as a matter of public record the reason for her choices as being influenced by juvenile reading. There is also a chance that a predilection for the symbols could have been operating subliminally.)
Tom, remembering the times Gypsy had helped him when he was in school, sent her the five dollars for initiation. . . .
. . . .
Gypsy's next problem was studying, and here her difficulty was her popularity and love of fun. Her studious room-mate, Jane Bruce, was a sympathetic sounding board, (like Tom Brown's room-mate in Thomas Hughes' Tom Brown at Oxford (1861) which the author may have read. In fact she even said once, like Hardy, "'It didn't pay, did it?'")
Novel reading on Sunday was apparently considered wrong by Gypsy, and it seemed right to only one girl, who was from the West. (It must have been a fairly common idea in some parts of New England, particularly, no doubt, Andover, as it seems to have been the vital center of a "traditional" religious way of life. Chapters. pp. 23-43, also pp. 49-53.)
Maude Clare copied material for a composition from the encyclopedia. One bit is interesting in light of a later book of Elizabeth Phelps Ward. "'If I were a girl in a storybook I suppose Miss Ayre would find out about that other girl and Caesar and then she would praise me up. . . . But she doesn't do any such thing.'" (p. 163) This did happen in Donald Marcy (1893).
"Nobody stole a gold-pencil and slipped it into her pocket; or a ten-dollar bill and put it into her trunk." This is presented with other similar possibilities as the sort of thing that happened in other boarding-school stories but not in this one. (Oddly enough, there is just such a book -- Beulah Romney, by Julia Eastman. In this book a girl did steal a ten-dollar bill and put it in her trunk lid, but the book was dated 1871 or 1872, seven or eight years after the Gypsy books.)
The characters are not all good or all bad; they are remarkably mixed, like real people. Even the ones held up as bad examples in some things had attractive and redeeming qualities, except for one girl who "was almost as much to be pitied as blamed." . . .
. . . .
After spring vacation a temporary shifting of room-mates took place as some girls returned earlier than others. Gypsy roomed for awhile with a good-hearted Western tomboy, named Jo Courtis. Copying her, Gypsy becomes mannish in her ways and used slang; examples were given. (This was four years before another Jo who was a tomboy appeared in Little Women -- again the suggestion that Louisa May Alcott might have read the Gypsy books.) When Gypsy's letters reeked with her boyish expressions, her mother called her attention to it. That was all that was needed; the phase was over.. . .
. . .
The last part of the book is reminiscent of the early part of Charlotte Bronte's Jane Eyre (1847). Typhus fever, common at that time in institutions, struck the school during the summer term. (There seemed to be no real summer vacation).
Gypsy's room-mate, Jane, nursed a crippled orphan who died, then nursed Gypsy through a virulent attack until her mother came. As she recovered, Gypsy became better acquainted with Jane, who at this point emerged as a prototype of Mary in The Gates Ajar.
Jane was still in mourning for her brother, who had been killed in the war two years before. She could not get over it. (It seems likely that Jane Bruce was not only Mary, but also the author herself.) Jane, as the book ended, was to make a visit to Yorkbury in a few weeks, (just as Elizabeth Phelps Ward, already in mourning, might have gone to visit a school friend who was the original Gypsy. Repeatedly the author reminded the reader that this was a true story.
But Elizabeth Phelps Ward seems too vital and spirited to remain long a recluse, struck down for life, wings clipped, yet still singing, like her contemporary, Emily Dickinson.)

-------------------------------------------------------

Note:
[*] In an earlier chapter, Swinchoski quotes from Mary Angela Bennett's discussion of Thompson in Elizabeth Stuart Phelps (Philadelphia: University of Pennsylvania Press, 1939): "Samuel Hopkins Thompson of the class of 1862 in the Phillips Academy, Andover, enlisted within two weeks of his graduation. He was elected a lieutenant and was killed at the battle of Antietam, October 22, 1862 . . . Between Lieutenant Thompson and Miss Phelps there had perhaps been no formal engagement, but there was on her part at least a very deep attachment. . . (p. 43-44)"