Annie Dix Sullivan Urann (Annie Moore)
Although occasionally confused with Anne Carroll Moore by cataloguers, Annie Moore was actually a 19th-century children's author, specializing in short stories, and occasional poems and musical compositions. Her mother, Marion Dix Sullivan (1802-1860), wrote "Blue Juniata," one of the first popular songs composed by an American woman. [1]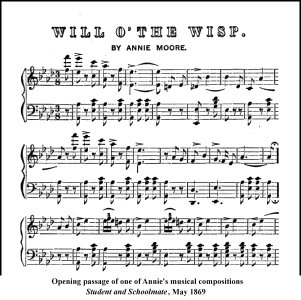 The oldest of three children, Annie Dix Sullivan (later Urann) was born in Boston in November 1826 to John Whiting Sullivan (1800-77) and Marion Dix. In 1836, she attended Lawrence Academy in Groton; sometime thereafter, her family traveled west, settling in or near Marietta, Ohio, about 1840. Subsequently, she returned with them to the Boston area, joining Mt. Vernon Congregational Church in 1844. The 1848 Boston Directory and 1850 census indicate that her family lived only a few miles from the Boston Public Garden and from her cousin and co-author, Lucy Dix Bolles. In September 1862, she married Henry (Harry) Adolphus Urann (1826-1901), whose occupation at the time was "broker". The couple have not been located in the 1865 Massachusetts census, but in 1870 they were living with her uncle, Timothy Brown Dix. Henry's occupation was then "miner" with real estate valued at $3000. Despite this apparent wealth, their presence in her uncle's home suggests there may have been some financial challenges.[2]
All of Annie's work appeared under the pseudonym Annie Moore. Her earliest identified publication, "The Story of Little Benjamin," ran in the July 1868 issue of The Nursery. During the next few years, she sent stories to several other children's magazines including Children's Hour, Our Young Folks, and Merry's Museum. By the end of the decade, she was also submitting musical compositions. Her "Will o the Wisp" ran in the May 1869 Student and Schoolmate, and "Little Rose" (with lyrics by Marian Douglas) in Riverside Magazine the same month. By the early 1870s, she had pieces -- stories and music -- published regularly in Oliver Optic's Magazine/Our Boys and Girls. During the last half of the decade, her periodical publications slowed somewhat, with most items running in St. Nicholas and Youth's Companion.
Annie Urann's connection with children's series rests on her co-authorship of the first volume of the Nelly Marlow series, Overhead; or What Harry and Nelly Saw in the Heavens (1878), published as by Annie Moore and Laura D. Nichols (the pseudonym of her cousin, Lucy Dix Bolles). Subsequent volumes in the series appeared with Nichols as the sole author, though the contents of several volumes suggest Urann was still contributing ideas.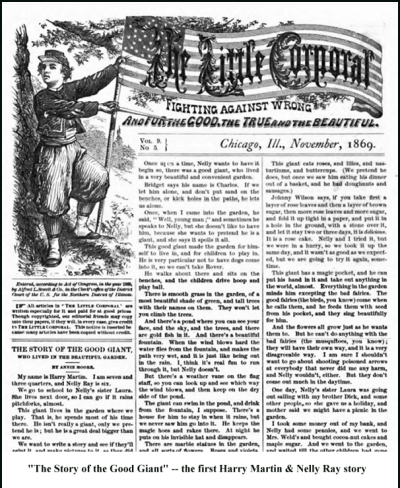 The series protagonists (Harry and Nelly Marlow) may initially have been based on Annie's younger siblings, John Henry (Harry) (1833-1858) and Frances Ellen (Nelly, later Frances Ellen Wild, wife of Gen. Edward A. Wild) (1829-1923). Prior to the start of the series, several of Annie Urann's short stories for Little Corporal had featured two young children, Harry Martin and Nelly Ray, who, like the Marlows (and the Sullivans) lived in Boston near the Public Garden.
By 1880, the Uranns appear to have separated: Annie has not been located in the 1880 census, but Harry's entry places him in Colorado, living with his brother and sister-in-law; the 1885 Florida census shows him in Putnam County, with his marital status listed as single. He died in July 1901. One obituary noted that he had lived in Ocala, Florida, for "about twelve years" and, "in recent years . . . had no steady employment, and . . . existed on the bounty" of several friends and businessmen. The obituary added that Urann had a wife in Massachusetts. [3]
By then, Annie had stopped publishing. (Her last identified piece was "Blue Juniata," for Youth's Companion, an essay combining information about the Juniata River, her mother's life, the song, and an autobiographical acount of the circumstances surrounding its creation -- though she still did not reveal her identity or connection to the composer.) The 1900 and 1910 censuses place her in the Boston area (Cambridge, then Brookline), living with her widowed sister, Frances Ellen Wild. Annie apparently maintained close relations with Lucy and her family. Lucy dedicated the fifth volume in the Nelly Marlow series, Nelly Marlow in Washington (1886), "to my dear friend, Annie Moore," and Annie's will names Lucy and her sister Judith first among her beneficiaries if Frances predeceased her.
Annie Dix Sullivan Urann died in 1912.
Notes
1. The Wikipedia entry calls it " the first commercially successful song written by an American woman." A version of the song, by Roy Rogers and the Early Sons of the Pioneers can be heard on YouTube.
2. Information about Sullivan's childhood is from census records, family histories, and other documents. Specific citations available on request.
3. "H. A. Urann Dead," Ocala [FL] Evening Star, July 12, 1901: 4, Newspapers.com.