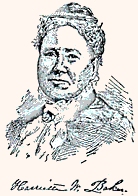 Harriette Newell Woods Baker
One of the most prolific -- and most forgotten -- authors of early nineteenth-century series for children was Harriette Newell Woods Baker. She was born in Andover, Massachusetts, on 19 August 1815 to Leonard and Abby Woods. Like a number of other nineteenth-century female series authors, Baker came from an educated family: according to the National Cyclopedia of American Biography, her father, Dr. Woods, "was the first professor in Andover Theological Seminary, and afterward [its] president." One of her girlhood friends (whom she later described as "my most intimate companion") was Elizabeth Stuart (later, Elizabeth Stuart Phelps), who also authored early girls' series and whose father was also a professor and Hebrew scholar at Andover Theological Seminary. [1] Indeed, for a time, the two girls even formed their own writing society and read each other's work. (Additionally, the NCAB notes that, while at Andover Theological Seminary, Baker's future husband, Abijah, "became so proficient in Hebrew, that he was requested to correct the proof sheets of Prof. Stuart's Hebrew grammar." Prof. Stuart was, of course, Phelps's father.)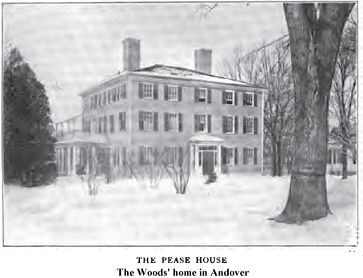 Like several other series authors, Baker began writing at an early age. Accounts of her first publication differ: it may have been in a religious periodical, The Puritan, when she was eleven or in Youth's Companion when she was only ten. Although no specific pieces have been identified as her work, she later wrote of her first publication inthe Companion during her girlhood as well. Of the latter, she wrote:
after a good deal of heart-beating I enclosed my story to Deacon Nathaniel Willis with a note authorizing him to print it in his newspaper, called "The Youths' Companion," if he wished. From the extent of my astonishment when I saw my own words in the column of a newspaper, where the whole world might read and criticize it, I presume I had not really imagined  he would wish to use it, but when the stage-coach brought a package to my father, and he passed to me a heavy letter addressed with my name, containing a silver dollar, my surprise and delight was beyond words.  
Baker attended Abbot Female Seminary and "an academy in Catskill, N. Y." (NCAB). On 1 October 1835, she married Abijah Richardson Baker, ten years her senior, who had recently graduated from Andover Theological Seminary and was teaching English at the Phillips Academy in Andover. In 1838, the couple relocated to Medford, Massachusetts, when Baker accepted the pastorate of its Congregational Church. The family made additional moves as Rev. Baker responded to calls from different churches: circa 1851, to the Central Congregational Church in Lynn; in 1855, to another Congregational Church in Wellseley; and in 1863, to the E Street Church in South Boston. During this period, Harriette Baker gave birth to six sons, one of whom died in infancy. (Four of the others became ministers; the fifth, a professor in the medical school at Harvard and founder of the Baker Chair of Gynecology there.)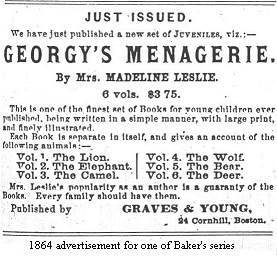 Baker was astonishingly -- some would say appallingly -- prolific, anonymously or pseudonomously writing approximately "two hundred works," (NCAB) at least half of which were children's books, most in series. Her earliest works were published by the Massachusetts Sabbath School Society; among them was Frank Herbert, based loosely on her husband's life. Later works were issued by mainstream publishers, who offered higher payments for her manuscripts.
Her first two series, Little Frankie and Robin Redbreast (six volumes each) were published in 1860 under the pseudonym Mrs. Madeline Leslie; [2] these were small volumes, intended for the very young, as were "Aunt Hattie's Library for Girls" and "Aunt Hattie's Library for Boys," published later in the decade under her other pseudonym, "Aunt Hattie." Given Baker's background, it is perhaps not surprising that most of her writings had a strong religious slant and were heavily didactic. Her best-known work, Tim, the Scissors-Grinder (1861) was a staple in many church libraries and, according to the NCAB also "was sold or given away by [the] thousands in England" in a "cheap reprint" edition; her obituary in Publishers' Weekly indicates it "had a circulation of 500,000 copies." Although her NCAB entry contains a glowing account of her writing style, noting "Her characters are well drawn, and . . . strikingly true to life . . . Her style is simple, chaste, often elegant," the excerpts from a review of one of her children's books, Walter and Frank; or, The Apthorp Farm, quoted in The Rise of Children's Book Reviewing in America, 1865-1881, are less complimentary. The reviewer found the book was "full of mistaken notions as to what it was possible or desirable for boys to do" and dubbed the main character a "cunning little prig." [3] The truth, perhaps, lies somewhere between: Baker's books reflected the tone expected in religious fare for the young, and they were obviously successful enough that her publishers felt justified in issuing more of her writings.
Baker became a widow in 1876 and sometime thereafter moved to New York, where she died on 26 April 1893.
1. Information about the girls' friendship is courtesy of Sheri Sleyzak, "great granddaughter many times" of Harriette Baker. A more complete description of an encounter between Phelps and the Woods family appears on pp. 109-10, chapter 19 of Baker's biography of her father, Reminiscences and Records of Rev. Leonard Woods, D.D. which Ms. Sleyzak has been transcribing and making available online. Information about Baker's ancestors and descendants is also available on Sleyzak's Woods Baker family history site, which includes a portrait of Baker's father.
2. Click here to read The Robins' Nest, the first volume in the Robin Redbreast series.
3. Richard L. Darling, The Rise of Children's Book Reviewing in America, 1865-1881. Bowker, 1968.
Selected biographical sources
"Baker, Abijah Richardson." National Cyclopedia of American Biography. Vol. 14.
"Baker, Harriette Newell Woods." National Cyclopedia of American Biography. Vol. 14.
"Baker, William Henry." National Cyclopedia of American Biography. Vol. 15.