Maria J. McIntosh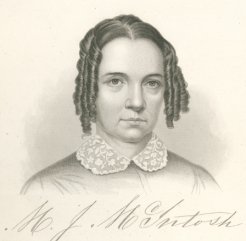 Probably the earliest author to write a girls' series, Maria J. McIntosh was born in Sunbury, Georgia, in 1803, where her father, attorney Lachlan McIntosh, owned a plantation. When she was three, her father died, and her mother, Mary Moore Maxwell McIntosh, assumed responsibility for managing the family home. McIntosh was well educated, attending Sunbury Academy and later Baisden's Bluff Academy.
When she was twenty, her mother died, and for the next twelve years, McIntosh oversaw the plantation. In 1835, she sold it and moved to New York, comfortably wealthy -- until the Crash of 1837 wiped out her fortune.
According to her entry in The Living Female Writers of the South, "A friend advised her to attempt a juvenile series of books, and suggested 'Aunt Kitty' as a nom de plume." [1] She completed the manuscript of the first volume, Blind Alice, in 1839, but it took another two years to find a publisher. The remaining volumes were published during the next two years, forming a series known as Aunt Kitty's Series or as Tales for the Young; or Lessons for the Heart.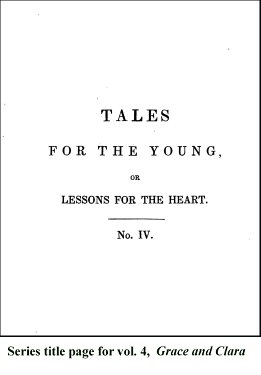 The five-volume series is what might be classified as a narrator series -- the character uniting the volumes is the pseudonymous narrator, Aunt Kitty. Generally accompanied by her two nieces, Aunt Kitty visits or observes children exhibiting both positive and problematic behavior, serving as the basis teach moral lessons. The narrator series follows the format of the initial volumes of the enormously popular Peter Parley tales. One commentary in Dictionary of Literary Biography notes that "she often used contrasting pairs of characters to prove her lesson." [2] The series was initially published as indivitual volumes, then reissued in 1847 with all stories bound together as Aunt Kitty's Tales. A new preface
Although McIntosh published a few more books for children, most of her work after 1842 was novels for adults, beginning with Conquest and Self-Conquest. Her earliest novels, including again "us[ed] paired characters to illustrate her moral points." [3]
McIntosh remained in New York City for much of the remainder of her life. For a time, she taught at Henrietta Haines's girls' school (which another series author, Mary Alice Seymour, attended). In the 1870s, she moved to Morristown, New Jersey. She died February 25, 1878.
Notes
[1] "Maria J. McIntosh," The Living Female Writers of the South (Philadelphia: Claxton, Remsen & Haffelfinger, 1872): 224.
[2] Hynes,, Jennifer. "Maria Jane McIntosh." Dictionary of Literary Biography, Vol. 239: Detroit: Gale Group, 2001.
[3] Ibid.