Virginia Wales Johnson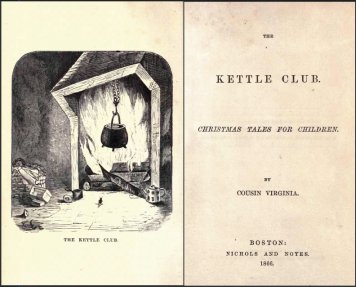 Like several other series authors, Virginia Wales Johnson came from distinguished ancestry, in this case the Sewall family (descendants of Judge Samuel Sewall); she was also distantly related to Henry Wadsworth Longfellow. Although her parents (M. Augustus Johnson and Sarah Benson Johnson) are described as Bostonians in several biographical sketches, Virginia Johnson was born in Brooklyn, on 28 December 1849. Educated at home and in New York City, she began writing while she was still very young -- several sources note she started her first series, the Kettle Club, in 1860, at age ten or eleven, although the first volume was apparently not published until 1866, when she was in her early teens. She completed the series in 1870, and her four-volume Doll's Club appeared in 1871. Both series were issued under the pseudonym Cousin Virginia, a name she apparently used only for her juvenile fiction. A non-series children's book, The Catskill Fairies, also gained attention when it was displayed at the Centennial Exposition in Philadelphia because of its typography.[1] Johnson's first novel for adults, Joseph the Jew, was published in 1874; the following year saw The Calderwood Secret.
In 1875, she and her mother and sister went abroad, and Johnson settled in Europe, spending most of her time in Florence. She continued to write adult novels and stories, which were published in America. These included An English Daisy Miller and A Bermuda Lily. The Dictionary of American Biography notes that "[a]fter 1875, her work shows intense love for Italy, both mediaeval and modern," and incorporates a "knowledge of Italian history and literature" as well as of contemporary Italy. Many of her later works, such as Genoa the Superb, the City of Columbus (1892) and Summer Days at Vallombrosa (1911) dealt with "popular history" or travel.
Johnson never married or returned to the United States. She died 16 January 1916.
Notes
[1] The cover of the book can be seen as part of an online exhibit at Columbia University, Judging a Book by Its Cover.
Sources

Entries for Virginia Wales Johnson can be found in the National Cyclopedia of American Biography (vol. 13), the Dictionary of American Biography (vol. 10), and American Authors, 1600-1900. Both of these appear to draw heavily on an 1882 article from Literary World.
<