Cousin Alice (Emily Alice Bradley Neal Haven)

The author who sometimes wrote as "Cousin Alice" and other times as Alice B. Neal, Alice B. Haven, or even Clara Cushman, was born September 13, 1827, in Hudson, New York, and christened Emily Bradley. The youngest of three children (a fourth died in infancy), she endured a difficult childhood: her father, Giles Bradley, died on her third birthday; she was adopted by an uncle at age six, then returned to her mother three years later (after her mother's remarriage); she had severe eye problems and occasional bouts of blindness which may have stemmed from scarlet fever and, while still a child, went through treatments that involved placing leeches on her face. [1]

Like a number of other women series authors, Cousin Alice came from a family with active involvement in publishing and began writing while still in her teens. When she was thirteen, her sister, Cornelia Holroyd Bradley, married a magazine publisher, William Carey Richards, and moved to Charleston; Cornelia Richards later became an author in her own right, publishing under the pseudonym Mrs. Manners. Encouraged by her schoolmates, Emily, who had kept a journal since at least age twelve, began sending material to periodicals. Learning of this, Cornelia "wrote to her from the South, asking that she should not see her [sister's] name before the public till she had reached the age of eighteen" (46). Emily obeyed the letter rather than the spirit of the request: she did not stop submitting material, but instead adopted a pseudonym, Alice Gordon Lee.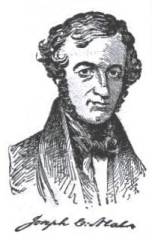 The editor of the Philadelphia-based magazine Neal's Saturday Gazette, Joseph C. Neal, became interested first in Alice Lee's sketches, then, via correspondence, in their author. Even the name charmed him for, as he explained, "Alice Gordon-lee sounds very Scotch, and my mother is a Scotchwoman" (52). After months of correspondence, he learned the author's true identity, arranged a meeting -- and married her four months later. He asked that she keep the name Alice, and she agreed, remaining Alice ever after.

Sadly, the marriage was almost as brief as the courtship, and after only seven months, Alice Neal was widowed. During their marriage, she had worked as an assistant editor on Neal's Saturday Gazette; after her husband's death, she determined to continue the publication. To supplement her income, she turned to writing for other markets, soon becoming a regular contributor to Godey's Lady's Book. One source notes "She was greatly admired in Philadelphia literary circles, where her beauty, charm, and talent made her a somewhat romantic figure among editors." [2] In 1849, her first children's book, the semi-autobiographical Helen Morton's Trial, was published; the sequel, Watch and Pray; or Helen's Confirmation, appeared two years later. Both were issued by a religious press.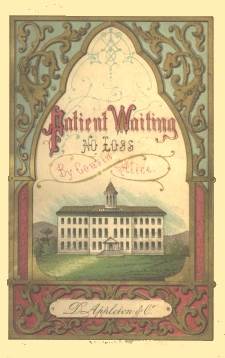 The year after Helen Morton's Trial, Alice Neal's first adult novel, The Gossips of Rivertown, which had been serialized in Godey's, was published. One commentator notes that "It was the only work she ever regretted publishing, yet to modern readers it may be the saving grace of an oeuvre seemingly weighted down with moral uplift," possessed of "sarcasm, irony, wit, and cool, sharp observation." [3] More typical fare can be found in her "Home Books". The series, which lasted for eight volumes, was charitably described by a nineteenth-century source as "stories written to illustrate various proverbial moralities, . . . in a happy vein of dialogue and description, pervaded by an unobtrusive religious feeling." [4] Alice explained the series title in the preface to the first volume in 1851: "Home Books, I shall call these, because all things gentle, and beautiful, and pure, should be gathered in home's happy influences -- and there is a charm in its every association. So when I come to the fireside, I shall hope to be a welcome guest, and we will talk of many strange and lovely things . . . " [5] Although advertised as a series and numbered sequentially (with the prefaces providing a reference to the volumes' place in the series), the stories did not share common characters or settings. The only unifying factor, other than physical format (which included a striking full-color title page), was the use of proverbs as titles.

On January 1, 1853, Alice Neal remarried. Her husband, Samuel Livermore Haven, was a businessman from New York, and after their marriage, the couple moved to New York City. She was joined there by her sister's family and by a friend, Mary Emily Neely, who soon became her sister-in-law and whose career she helped launch. (Mary Neely Bradley would then go on to write a children's series that also used proverbs as titles, doing so in concert with her own sister, Kate J. Neely.) In addition to her book publications, Alice continued to write for journals, including School-fellow, a children's periodical published by her brother-in-law. One of her more unusual offerings in that publication was half of the "Baby's Correspondence" between "Sam Lively" and "Edith Newcome." Although the correspondence was fictional, the babies were not -- Samuel L. Haven was Alice's first child, born October 14, 1853, and Edith was his young cousin.

In 1854, the family moved to Mamaroneck, New York, to a newly-built home Alice christened "Locust Cottage." Four years later, the Havens again changed residences, purchasing nearby "Closet Hall," which had once been the home of J. Fenimore Cooper, and renaming it "The Willows." During this time, the family had also grown to include two daughters, Elsie Thwing, born March 24, 1855, and Caroline Belknap, born October 19, 1856. Alice's next child, Lewis Godey Haven, born February 13, 1859, (named in honor of her friend and sometime employer, Louis A. Godey, publisher of Godey's Lady's Book) was her first born at "The Willows". [6]

Although Alice was already struggling with ill health, she continued to write. The three-year gap between the last two volumes in Home Books may reflect these problems; the final volume, perhaps appropriately titled Where There's a Will There's a Way, appeared in 1860.

Her health, never good, continued to deteriorate, worsened by tuberculosis. Travel to warmer climates provided a brief respite, but exertion, coupled with a pregnancy, undermined the gains. One of her last stories was "Our Day," published in the October 1862 issue of Harper's. Her sister explained that during "an interval of health" in the summer of 1862, Alice had "occupied herself in the hospital work, out of which grew ['Our Day'], which made a great impression at the time of its publication. Many a tender and brave heart was stirred up by it 'to go and do likewise,' and scores of soldiers wrote to her and to the publishers thanking them for it . . . Nothing that she ever wrote brought her a richer and quicker reward of the sort which best repaid her for her exertion" (335). [7]

On July 21, 1863, Alice gave birth to Mary Emily Haven (named for her sister-in-law). She died a month later, on August 22, in Mamaroneck, three weeks before her thirty-sixth birthday.


Notes

[1] The primary source of information about Haven's life is Cornelia Holroyd Bradley Richards, Cousin Alice: A Memoir of Alice B. Haven (D. Appleton and company, 1865); the 1871 edition is online at Making of America (U of Michigan). Future references to Cousin Alice will be parenthetical in the text. Genealogical information is from Adelos Gorton, Samuel Gorton of Gorton, England and of Warwick, Rhode Island and His Descendants in America (Philadelphia, n.p., 1907): 593-94, accessed via HeritageQuest. Additional biographical information, including the theory about scarlet fever, is from E. D. Lloyd-Kimbrel," Haven, Emily Bradley Neal," American National Biography Online Feb. 2000.

[2] "Haven, Emily Bradley Neal," Dictionary of American Biography, vol. 8 (New York: Charles Scribner's Sons, 1932). Hope Greenberg's Alice B. Neal Haven: List of Works identifies Haven's many publications in periodicals. The University of Vermont's online Alice B. Neal Haven Collection reprints several of Alice Neal's stories from Godey's, although they are from a later period (1855-57).

[3] E. D. Lloyd-Kimbrel,

[4] "Haven, Emily Bradley Neal," National Cyclopedia of American Biography, vol. 5 (1891; rpt. University Microfilms, 1967): 386.

[5] Cousin Alice (Haven, Alice B.), "Home Books!" No Such Word as Fail (New York : D. Appleton & Co., 1853): n.p.

[6] The Coopers; or, Getting Under Way (D. Appleton, 1858), online at Wright American Fiction was the first of her adult works to be published during her residency at "The Willows."

[7] "One Day" is available online at Making of America (Cornell), along with several of Haven's other stories from Harper's.


Return to main page

Copyright 2005 - Deidre Johnson