Mary Jane (Reed) Hildeburn
The snippets of available biographical information about Mary J. Hildeburn indicate she was born in Philadelphia on December 2, 1821, and that her maiden name was Mary Jane Reed. One source notes she was educated in Philadelphia; another, that she was, for a time, a teacher; a third, that by 1848 she was an orphan, who "resides [in Philadelphia] with her brother." At some point, she married William L. Hildeburn (whom one source describes as "a retired merchant"). Reed wrote poems, short stories, and "Sunday-school books" under her own name and as Marie Roseau. The earliest item in most lists of published books is Day Dreams, from 1854; the latest, the Pet Series, from 1879. Mary J. Hildeburn died in Philadelphia on September 18, 1882.
To add a bit more to the fragments above: Hildeburn was publishing poems (as Mary J. Reed and as Marie Roseau) in the late 1840s, in collections including Women of the Scriptures and American Female Poets, and in periodicals including the Philadelphia-based Neal's Saturday Gazette. In the early 1850s, she also wrote for a southern children's periodical, Schoolfellow, again as Marie Roseau.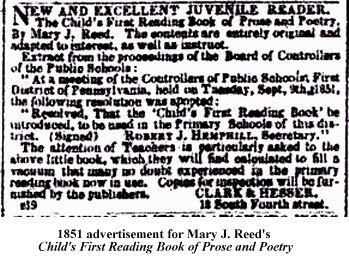 Hildeburn appears to have been employed as an assistant in primary schools in Philadelphia (earning a mere $225 annually) prior to 1845, and as a teacher in secondary schools for a period after that. Her first book was probably The Child's First Reading Book of Prose and Poetry from 1851, published by the Philadelphia firm of Clark & Hesser. In the early 1850s, she attended the First Presbyterian Church, even writing at least one poem in honor of her minister, Rev. Albert Barnes.
The date of her marriage is uncertain, but it was before 1868. If she had been struggling to earn a living before her marriage, her situation changed radically afterward: the 1870 census showed William Hildeburn owned over $200,000 (in 1870 dollars) worth of real estate, with a personal estate of an additional $100,000. Two of her sisters (or sisters-in-law), Annie and Sarah Reed, also lived with the couple.
Hildeburn's book publications after her marriage were almost exclusively with the Presbyterian Board of Publication, perhaps because she did not need to worry about supporting herself. They included two series (or, perhaps more accurately, two collections of books issued under an umbrella title), Amy Hall (1868) and Archie and Pussy (1872).
She is buried in Laurel Hill cemetery.