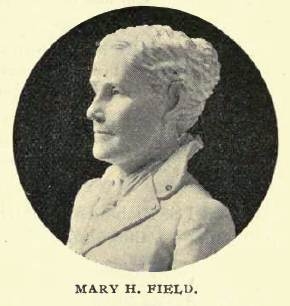 Mrs. Frederick Field (Mary Hannah Bacon Field)
Mary Hannah Bacon was born December 6, 1833, in Niles, Michigan, to Nathaniel Bacon (later a member of the Michigan Supreme Court) and Jane Sweetman Bacon. In 1856, she married Frederick Field. Soon after, the couple returned to his native Vermont and settled near Dorset, where he had invested in a marble quarry.
In 1870, Mary H. Field's only juvenile series, the three-volume By and By, was published as by "Mrs. Frederick Field". Her publishing success was soon eclipsed by personal tragedy when three of her her five children, including her eldest son and her one-year-old daughter, died within two months of each other that same year. One of those who sent words of comfort was author Elizabeth Prentiss, who had also published a children's series (Little Susy) and had also suffered the loss of a child.
In 1873, the family relocated to San Jose. There Field became active in the local Chautauqua society. She also published poems and short stories, this time under her own name (as Mary H. Field). Her best-known poems appear to be "Motherhood" and An Arboreal Song of the Alameda. Several of her prose publications reflected her interest in Chautauqua, most notably an award-winning story, "The Evolution of Mrs. Thomas" from 1890, and a novel, Kate Thurston's Chautauqua Circles, from 1891.
Field was widowed in 1889 and died in 1912. In 1914, her daughter Mabel Field Hastings edited a privately-printed collection of her mother's poems.



Return to main page

Copyright 2008 - Deidre A. Johnson