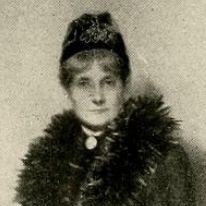 Elizabeth Champney
Elizabeth Williams was born February 6, 1850, in Springfield, Ohio. She later went to New York to attend Vassar and graduated in 1869. When she was twenty-three, she married J. Wells Champney.
Her husband, James Wells Champney, was born in Boston, Massachusetts, in 1843, and remained there, attending school and studying art, until 1863. He joined the army and fought in the Civil War until the battle at Gettysburg. From 1866 to 1870, he was in Paris, Antwerp, and Rome. He stayed in Boston (where he apparently had a studio -— much deserted, one suspects) for several months in 1870-1871, then returned to Paris for the remainder of 1871 and part of 1872. In 1872 or 1873, J. Wells. Champney, or "Champ," as he signed his paintings, was again in the United States and in 1873 began travelling through the southern states. He and Elizabeth were married in May, 1873 in Manhattan, Kansas.
From here, they seem to have travelled together. Biographies of Elizabeth Champney mention that she travelled through England, France, Portugal, Spain, and Morocco; "Champ's" include a few more details: he was in Europe in 1874-1875 and in Spain during the Carlist War. In 1876, the couple settled down, at least for a while, in Deerfield, Massachusetts, where J. Wells Champney built a studio.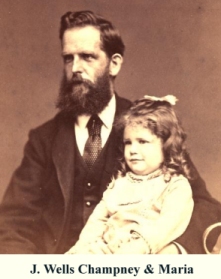 They had two children and appear to have exerted a strong influence on their lives, for Edward Frere Champney studied art in Paris, as his father had done, then co-authored two books with his mother, and finally became an architect. Marie Champney attended Vassar, her mother's alma mater, then became an artist, following her father's career.
J. Wells Champney and Elizabeth Champney's lives and careers were so entwined that it is impossible to discuss one without discussing the other. "Champ" painted landscapes, but was better known for his portraits. He exhibited some of these, including a portrait of Elizabeth, at the World's Columbian Exposition in 1893. In addition, he illustrated many of his wife's works, beginning with her first published piece, a poem printed in the first issue of St. Nicholas (November, 1873)—a scant six months after their marriage, and illustrated some of her later contributions to the periodical as well. He also created some of the illustrations for many of the volumes in Elizabeth Champney's Three Vassar Girls and Witch Winnie series.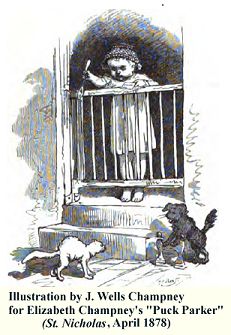 J. Wells Champney was not only responsible for illustrations in his wife's books but also, to some degree, for her choice of subjects and, consequently, her early popularity. Elizabeth Champney's work was not well known until she began writing articles about her travels (with J. Wells Champney, one assumes) for magazines such as Century and Harper's. Two of her girls' series, Witch Winnie and Three Vassar Girls, written from 1883-1898, were also shaped by this: between them, Witch Winnie and the Vassar Girls cover England, Holland, France, Spain, Italy, Switzerland, Germany, Russia, Turkey, Israel, and South America. A third series, the "Romance" books, was also influenced by her travels, for it centers on tales and legends about castles and abbeys in Europe. <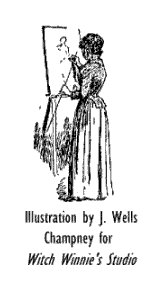 While travel and foreign lands play a recurring part in Elizabeth Champney's books, they are not the only elements which are often repeated. Mrs. Champney lived a life surrounded by artists, and her books echo this interest as well. The characters in the Witch Winnie series take art lessons, and two plan to study art seriously. Elizabeth Champney's individual volumes also touch on this theme: Bourbon lilies: A story of art life, All around a palette, and John Angelo at the water color exhibition all deal with art and artists. Indeed, of her more than forty-five books, published from 1878 through 1921, it is hard to find many which do not touch on one or both of these subjects.
Elizabeth Champney seems to have followed the adage "Write about what you know" with a vengeance. With only sketchy information about her life, it is amazing how many autobiographical details can be noted in her works. The Three Vassar Girls series, obviously, was influenced by her school days. The Witch Winnie series (also set at school) spends some time discussing the character development of the girls, explaining that they have learned to manage funds and have developed charitable, unselfish characters partly by giving a regular part of their funds and some of their time to the Home of the Elder Brother, a home for children, which, Mrs. Champney notes, is based on the Messiah Home for Children in New York. Mrs. Champney, it might be mentioned, was on the board of directors of the Messiah Home for some time.
Elizabeth Champney became a widow in 1903, when J. Wells Champney died in New York. She died nineteen years later, in California, in 1922.
Sources
National Cyclopedia of American Biography. New York: James T. White & co., 1901. Vol. XI.
Who Was Who in America, with World Notables. 1943; rpt. Chicago: Marquis Who's Who, Inc., 1968. Vol. 1.

Additional Biographical Sources
A Woman of the Century: Fourteen Hundred-Seventy Biographical Sketches Accompanied by Portraits of Leading American Women in All Walks of Life. Eds. Frances E. Willard and Mary A. Livermore. Charles Wells Moulton, 1893.
The above, published during Champney's lifetime, contains a brief biographical sketch, accompanied by her portrait. Click here to read the entry.