CHAPTER IX.

THE FOURTH BIRTHDAY--CONTINUED.
Scanned by Deidre Johnson for her 19th-Century Girls' Series website; please do not use on other sites without permission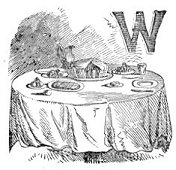 HEN they entered the dining-room, they found Susy's papa and mamma, and Frank's mamma and aunt, waiting for them: and in the midst of the floor stood a round table, covered with a white cloth. A nice little feast was spread upon the table; not exactly dinner, and not exactly tea, but very pleasant to the eyes of the children, who were all hungry after their play. Now the parents of these children did not approve of over-feeding little folks with sweet things, but they had provided every thing they could think of, that it would be safe to eat. Besides, Susy's papa had been to a wedding-party the previous evening, and a lady had sent to Susy a great many mottoes and some delicious grapes. Some of these were arranged prettily on the table, and the children were lifted into their seats, and Susy, looking very grave indeed, began to pour out for each a tiny cup of cocoa. Frank said he should like to sit there and pour it out, as he was the eldest, but his mother laughed at him a little, and said she never heard of such a thing as a gentleman's pouring out tea when ladies were present. Charlie said he wanted to pour out because he was the youngest ; but his mamma laughed at him too, saying Hatty and Robbie were both younger than he; so Charlie gave up very pleasantly, and was very happy, drinking his cocoa and eating small, thin slices of bread and butter. And so were they all. Even Robbie, on this great occasion, had a little of every thing; but he was a good boy, and when his nurse asked him to let her save his mottoes and grapes till to-morrow, he gave them all to her. I wish I could tell you how they all looked, sitting there, talking as fast as their tongues could fly, and enjoying all the good things so pleasantly. Susy was so happy, that she could not help throwing her arms about Hatty, who sat next to her, and kissing her many times; and she kept all the largest grapes for Robbie, and offered the big pieces of cake to her cousins, though they were too polite to take them.

I think no body enjoyed this feast more than the grown folks, though they only sat and looked on. Little children do not know how dearly their papas and mammas love them.

When every one had had enough, they were taken down from their high chairs, and the big books on which some of them sat; and Susy's papa made believe he was a lion, and that they were nice fat little things, just fit for him to eat up. So he began to growl, and to scamper all about the room; and the children ran, and laughed, and crept under the sofas, and hid behind their mammas; and I began to be afraid the house would come down, they made such a noise. At last he lion caught Susy, and while he was eating her up, the other children sat down to take breath, for they were as tired as they could be.

Frank went and whispered to his mamma, and she whispered to Hatty's aunt, and at last Frank said he was trying to persuade his mamma to ask Hatty to repeat a piece of poetry. Hatty was not yet three years old, but she could repeat a great many stories and poems, and it was very pleasant to hear such a little girl do this. But I will tell you about it in the next chapter.




---

CHAPTER X.

THE FOURTH BIRTHDAY--CONCLUDED.

LITTLE Hatty was lifted up to a seat on the table, where all could see her, and the children arranged themselves where they could hear her. Susy got upon her papa's knee, who kept kissing her and loving her dearly; Robbie ran to his mamma's lap, and Frank and Charlie were in low chairs, close by their mother. Then Hatty began in a soft, clear voice, and repeated that beautiful hymn, "I think, when I read that sweet story of old," and said every word so clearly and distinctly that not one was lost. Then she said the first chapter of John. I do wish you could have heard her. She was then lifted down, ,and they all thanked her for the pleasure she had given them, and Susy's mamma asked her if she could sing. She said she could, and Frank and Charlie said they could sing too; so they all sang, "There is a happy land." Now, Robbie listened as hard as he could, and wanted to sing too, but he did not know how; only, whenever they were going to say "happy land," he would should "happy lamb!" and this pleased the children so much, that they kept singing the hymn over and over, just to hear his little eager voice come in at every verse.

They sang, "Mary had a little lamb," after this, and other songs; and then Susy begged her mamma to sing the funny German song she and Robbie were so fond of. Mamma was almost ashamed to sing it before all those grown-up folks, but she did not like to refuse Susy, so she began thus:


     The moon it shines,
     The baby whines;
     The clock strikes twelve:
It's getting too late to toil and delve.

     In quiet nights
     The mousie bites;
     The clock strikes one:
May naughty dreams little cradles shun!

     Little Bo Peep
     Is fast asleep; 
     The clock strikes two:
May good girls be many, of naughty girls, few!

     The wind it blows,
     The cock he crows;
     The clock strikes three;
The ship sails quietly over the sea.

     The horse says neigh,
     He wants some hay;
     The clock strikes four:
The coach is standing before the door.

     The hen cackles,
     The duck quackles;
     The clock strikes six:
Time to get up and pick mother some sticks.

     The cook will bake
     A nice little cake;
     The clock strikes seven:
Put on the pudding, and boil till eleven

     You shall be fed
     With milk and bread;
     The clock strikes eight.
Come! eat your breakfast, before it's too late! 

The children liked this song very much, but it was now time for Frank and Charlie and Hatty to go home. They kissed each other, and were wrapped up, and away they went; and Susy and Robbie were soon fast asleep in their own beds, getting ready for the next birthday, next year!


---
CHAPTER XI.

THE FIFTH BIRTHDAY.

THERE was something going on just before Susy's fifth birthday came, that I shall have to tell you about, but you must not tell her. In the first place, Robbie's mamma has made a pair of white trowsers, and a green jacket with a crimped ruffle in the neck, and sleeves, and he is going to wear them on the birthday, and surprise Susy very much. In the next place, papa is very busy indeed, making a great baby-house, and Robbie can see it every day; but Susy knows nothing about it. Mamma is trotting round to all the shops, buying furniture for this house, and nurse is dressing a lady who is to live there. Sarah the cook, has made up her mind to bake a little pie for Susy; and Mary has been out and bought a great sugar dog. Robbie has a little book which he is to give Susy for his present, and his mamma reads to him stories from it when Susy is not by.

Susy knew she was going to be five years old, and she talked about it a great deal, and said her birthday never, never would come. But at least it did come, and she awoke very early, and hopped out of bed to see if Robbie were awake too. Oh yes! he was awake, playing with his beloved Peggy, and telling her it was Susy's birthday; and nurse was making the fire and hurrying to get dressed. So Susy gave him a good kiss, and ran into her mamma's room to get her five kisses, and laughing at the thought of the happy day she was to have. Her mamma was very glad to see her, and she kissed her on her lips, her cheeks, and her forehead, and then they laughed so, that papa awoke, and he said,

"Oh! is that my little Susy?" and she jumped into his bed and kissed him, and asked him if he loved her, and said she loved him dearly. But now it was getting late, and nurse was knocking for Susy to come to be dressed, and Robbie was in such a hurry to give Susy her book, that the couldn't wait any longer, so he took it from under his pillow, and told her how he went away down to Broadway to buy it for her. Susy could read a little, and she opened the book and read "The Lost Child." This was the title of the first story, and it is a very pretty story. While Susy was being dressed, Robbie told her his mamma had read it to him. After breakfast, Susy went and whispered something to her mamma and they went together into that same little room, and prayed and thanked God; and after her mamma had gone away, Susy knelt down and prayed all by herself. When she came back to the nursery, there were her papa and mamma and Robbie, standing smiling by the new baby-house. Susy was so astonished, that she could not speak a word, but she threw her arms around papa, her mamma, and Robbie, and danced about, and clapped her hands, and they all rejoiced together. This baby-house had four rooms in it, a kitchen, a dining-room, a parlor, and a bed-room, and there was furniture in every one. In the parlor, in a nice chair, sat Miss Ellen, Susy's best doll, reading a book, and down in the kitchen there was black Dinah frying buckwheat cakes! When Susy saw that, she had to get up and dance again. I believe those cakes were made of yellow flannel; but I don't know, I never tried to eat one.



On to Second Series, chapter 1 [chapter 12]

Return to main page