CHAPTER XV.

THE FIFTH BIRTHDAY--CONCLUDED.
Scanned by Deidre Johnson for her 19th-Century Girls' Series website; please do not use on other sites without permission

THERE were still a few minutes left before dark, and Susy said she was going to be a doctor, and go and visit her patients. She told Robbie to lie down on the floor, and make believe he was sick. So she put on a pair of spectacles and a cap and took her papa's gold-headed can from the closet, and set out. When she came to Robbie, she said,

"You are very sick with weakness, Mr. Miller. I shall have to bleed you."

"Oh, no; I don't want to be bleeded!" said Robbie.

"Lie still, Sir! I won't bleed you, if you will. I will give you six pills. Open your mouth, and let me see your tongue. It's as red as fire. Let me feel your pulse. Why, it is going! I guess you won't die. People don't die when their pulse keeps going. You may soak his feet when he goes to bed, Nurse."

"Yes, Sir," said the nurse, "I will."

Susy then went to see her doll, Ellen.

"Let me feel your pulse," said she: "Oh, it doesn't go at all! I am afraid you'll die. But don't cry. Ill give you some oil, and perhaps that will set it a-going. And I guess I'll put a blister on your arm."

Then she went to Peggy.

"How do you do, Peggy?" Not very well did you say? Well, here is a dose of salts for you. Don't make faces! Drink it right down. I'll call again tomorrow. Oh, you needn't cry and beg me to come back; I'm going to see my mother, and ask her to tell me a story. Come, Rob."

"Oh, you're a great doctor aren't you?" said the nurse, laughing.

Then Susy led Robbie down into the parlor, where their mamma sat waiting for them.

She kissed them, and asked them if they had had a happy day, and they both said they had. So then she told them a story.

"Once, a little angel saw the door of heave open a little way, so he thought he would fly out just for an hour or so. He flew and flew a long time, and at last he came to a house. The window was open, so he flew in.

"'Oh! see that beautiful white bird!' said one of the children.

"'No, I am not a bird; I am a little angel!' said he. And he looked lovingly at all the children, who left their toys, and came and stood around him. They felt afraid; yet pleased too.

"'See his wings! They are as white as snow!' whispered one.

"'And look at his golden ringlets!' said another.

"'And his white hands,' said a third.

"The little angel sat down in one of their small chairs, and began to look about him, out of those large, friendly eyes.

"Then the children brought their books and toys, and let the dear angel look at them. Then they brought their baby sister, and the little angel smiled a most beautiful smile, and kissed the lovely, rosy baby. By and by, the children began to play. They were gentle, good children. If they had been naughty, the angel would have been frightened. He would not have staid with them so long.

"'Let us be kind and pleasant!' said the children. 'Angels like to be with people who love each other.'

"'When he goes home, I wish he would let me go with him!' said one. 'I want to be a little angel!'

"And then they played again. The angel staid all day. It made them happy to turn around every now and then, and see him there, looking so peaceful, so kind, so loving!

"But when it grew dark, the angel stretched his beautiful white wings, and flew home to heaven. Then the children all cried, and held out their hands, and said, 'We would have given him all our things, if he would have staid!' And the youngest said, 'I was going with him! I want to be a little angel!'

"Then his mother kissed him, and said, 'All the beautiful things in this world could not keep an angel away from heaven.'

"Then the children said, 'Heaven must be a happy place, if it is full of such angels as that.'

"And their mother said, 'Yes! indeed it must, and you shall all go there if you are good and love Jesus!'"

"Is that a true story, mamma?" asked Susy.

"No, not quite true. But it is true that you will see bright angels when you go home to heaven."

"I wish I could go now!" said little Susy. Then she kissed her dear mamma, and she and Robbie went to bed and dreamed very sweet dreams indeed. And their mother kissed them in their sleep, and prayed, in her heart, that they might be holy, happy children on earth, and angels in heaven when they came to die.



---

CHAPTER XVI.

THE SIXTH BIRTHDAY.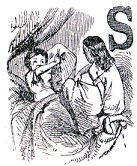 USY awoke very early on the morning of her sixth birthday. It was dark and cold and still. She wanted very much to jump up and run to her mamma for her six birthday kisses, but she knew it would not do to get up before the fire was made. Nurse was just opening the shutters, and Robbie began to rub his eyes, and look up to see what was going on.

"Robbie! it's my birthday," said Susy.

"Yes, I know it," said Robbie.

"I mean to get into your bed," said Susy.

"Well!" said Robbie.

So Susy got into Robbie's bed, and they began to frolic together. Susy threw the pillows at Robbie, and Robbie threw them at her, till Nurse said they must not do so, and then they stopped, and tried to think what they could do next.

"I'll read to you out of a Rollo book," said Susy.

"Oh, well!" said Robbie.

But just then Robbie's nurse was ready to give him his bath.

"Well, I can read to myself, then," said Susy; so she went on reading as fast as her tongue could fly. She could read very well now.

By-and-by it came her turn to be bathed and dressed; and while Nurse curled her hair, she sat in a high chair and read aloud to Robbie, who thought her just about the dearest little sister in the world.

After breakfast and prayers, Susy went away into her mamma's little room, and knelt down and asked God to forgive her for every naughty thing she had ever done in her life, and to help her to be very good all that day. When she came back to the nursery, she went to the window, and stood there, looking out.

Her mamma thought something seemed to trouble her, and she came gently behind her, and said,

"What is my little Susy thinking about?"

"I don't know, mamma." But after a moment she said, "Will God mind it if I do not know how to pray so well as big people?"

Her mamma said, "Once a little girl did or said something naughty, and her papa punished her for it by saying he should not kiss her for two hours. She sat down, feeling very sad and sorrowful, and wishing her papa would forgive her; and at last she thought she would write him a little note, tell him how sorry she was, and ask him to forgive her. She did not know how to write very well, and her little note was full of blots and mistakes. But she ventured to carry it up to his study, and put it into his hands. Now when her papa opened the little note, and saw all those blots and mistakes, do you suppose he said, 'Oh, I can't forgive a child who writes so badly as that?' No, he said, 'Papa forgives his little darling gladly; he loves to forgive her!' And he took her in his arms and kissed her again and again.

"Now, when little children pray to God, I suppose their prayers do have some mistakes and blots on them. They are poor little prayers. But they are all heard by 'gentle Jesus, meek and mild;' the same Jesus who once took children in his arms and blessed them; and he loves every little sorry heart, and will give it all it asks for."

Susy was comforted, and her mamma kissed her many times, and then told her to go out with Robbie, to roll hoop.



---

CHAPTER XVII.

THE SIXTH BIRTHDAY--CONTINUED.

USY had a fine time, driving her hoop. Hers was made of wood, but Robbie's was iron. While they were running up and down the side-walk together, their papa came out and watched them a few moments, and when they came up to him he said "Well, my darlings, have you had a nice play?"

"Oh yes, papa!" they said.

"Well, how should you like to go and spend the day with grand-mamma?"

"Oh, I should like it dearly!" said Susy, clapping her hands.

"Shall I go too?" asked Robbie.

"Yes, you too," said his papa.

"Is mamma willing? Is she going too?" asked Susy.

"No, mamma can't go very well, but she wants you and Robbie to go."

"I don't want to be away from mamma on my birthday," said Susy. She ran into the house, and found a woman she never had seen, sitting there.

"Who is that woman?" she whispered.

"She is going to spend a few weeks with us," replied her mamma.

Susy did not like that at all; but she only said,

"And can't you go with us to grandmamma's?"

"No, darling not to day. I am very sorry to disappoint you, dear Susy, on your birthday, but it cannot be helped. I think grandma will send for Frank and Charlie."

"I'm afraid they'll have to go to school."

"Oh, this is Saturday," said her mamma.

Then Susy began to think it would be very pleasant to go, even is she had to leave her dear mamma behind; so she went to the nursery, where she found Robbie all nicely dressed, and her own things all ready and waiting for her.

"We're going in the cars!" said Robbie.

"I mean to carry my doll," said Susy.

"And I shall take my blocks," said Robbie.

His nurse laughed at him, and said he would need one man to carry his blocks then, for there was a cart-load of them.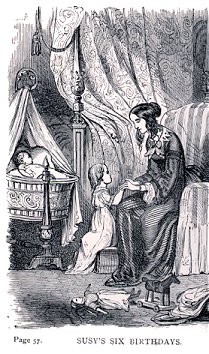 "Then he'll need a horse," said Susy.

"Are you going with us, Nursey dear?" said Robbie.

"Oh yes, indeed: your papa and mamma have no idea of sending you two little monkeys off by yourselves."

By this time Susy was all dressed, and she and Robbie ran in to kiss their mamma. She kissed them many times, and then their papa said he would see them all safely in the cars. They were very happy indeed, and the cars did not go faster than their little tongues did. They reached their grandmamma's house at eleven o'clock. She was sitting by the fire, knitting, and when she saw them coming in, she was delighted.

"It's my birthday, grandma!" said Susy. "I'm six years old!"

"And I'm four," said Robbie. "I'm almost six."

Grandmamma helped take off their coats and tippets and mittens, and she said,

"I'll tell you what I'll do. I'll send right over for Frank and Charlie, and you shall all have a fine play together."

"Oh yes, grandma, do! do!" cried Susy; "for since aunt Maria moved away from New-York, we done see Frank or Charlie at all. And Frank loves me."


---

CHAPTER XVIII.

THE SIXTH BIRTHDAY--CONTINUED.
IN a few minutes Frank came running in, with his cheeks as red as roses; and he kissed Susy and Robbie, and seemed delighted to see them.

"But where's Charlie?" said grandmamma.

"Oh, he's coming pretty soon, grandma; he had to stop to have another sack on, and a clean ruffle; that's all."

"Well now, I suppose you are all hungry, and grandma doesn't know what to give you for luncheon, unless it's a piece of apple-pie."

"Apple-pie for luncheon? why, grandma!" said Susy.

But grandmamma had already gone, and in a few minutes in came hot apple-pies and a great plate of cheese.

Robbie's nurse said, if grandma pleased, she should rather he had a cracker for his lunch.

"Oh, I do want some pie!" said Robbie.

"Well, when they come to see grandma, they must have something better than cracker," said grandmamma, and she began to cut the pie, while the children stood waiting about, thinking it was a very fine thing to come to see her.

"I must help Susy first," said she, "because it is her birthday."

"And Robbie next, because he's such a stranger," said Frank.

When they were all helped, the cheese was offered them.

"No, I thank you, grandma," said Susy, "mamma does not allow me to eat cheese."

"She doesn't allow me to eat cheese, either," said Robbie.

He shouted this out in such a loud voice that all the children laughed. Robbie blushed, and cast down his eyes, and wanted to cry, but he was afraid grandma would not let him come there again if he cried; so he began to crowd great pieces of pie into his mouth, and pretty soon he forgot his troubles.

"Why didn't your mother come?" asked Frank.

"She couldn't very well," said Susy.

"You've learned to read, Susy, have not you?" asked grandmamma.

"Oh, yes, grandma; and mamma was going to give me a book for my birthday present, but she forgot all about it, we came away in such a hurry."

"Well, I want you to come and read me one chapter in this Bible, and then I will give it to you for your very own."

Susy flew into her dear, kind grandmamma's arms, and hugged and kissed her. She said, "I had rather have a Bible than any thing else in the world. What chapter shall I read? May I read any where I choose?"

Grandma said she might; so Susy sat down and began to turn over the leaves. She wanted to find "The Lord is my shepherd."

One day she had found it in the big Bible at home, and "liked it dearly," she said.

"I guess it isn't in the Bible, Grandma," said she.

"Let me see, what it is you want to find, dear?"

"'The Lord is my shepherd,'" said Susy.

"Oh, that is the twenty-third Psalm," said Grandma; "I'll find it."

So Grandma quickly turned to the place, and Susy read the Psalm very well indeed, and Grandma kissed her, and said she hoped the Lord would indeed be her Shepherd; and then she gave her the Bible; and Susy was very happy, and in her heart she hoped so too.



On to chapter 19


Return to main page