XIX.

THE GIRL AND THE GOAT.

THEY did not drive back by the same road; the sun was not so hot now.

"Sure I think we have been out a good bit more than an hour," said Mike; "but you see, I think your mam-ma will say it was the best thing I could do to keep you all in the woods a time."

By and by they came to a house, in front of which a lit-tle girl sat on a log, and by her was a large goat, which she fed from a plate.

"0 see, 0 see," cried Ned; "there is a dog with two horns, like Suke's horns!"

"A dog with horns!" said Tom; "0- ho!"

But Tom could not say what it was, for he had never seen a goat.

Mike told them what it was, and he drew up that they might look at it.

"Is that your goat, lit-tle girl?" said Rose.

"Yes," said the child; "Nim is my own goat. I had him when he was a wee bit of a kid, and now you see how large he is."

"Does he like you?"

"0, yes, he will go all a-bout with me, and come when I call."

"What is your name?"

"My name is Ma-ry Ball. What is yours?"

Rose told her, and told her where she lived.

"Now we must go on," said Mike; "say 'Good-bye' to Ma-ry and her goat."

As they drove on, Rose said, "Why, that is just like Ma-ry and her lamb, on-ly this is a goat."

"What Mary?" said Tom.

"Why, you know! --

"'Ma-ry had a lit-tle lamb;
Its fleece was white as snow;
And ev-ery-where that Ma-ry went,
The lamb was sure to go.' "

"Why, you can say it this way," said Mike:--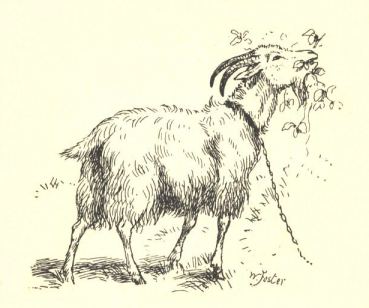 "Ma-ry had a lit-tle goat;
It had two horns, you know;
And ev-ery-where that she did tote,
That goat was sure to go."

This made the chil-dren laugh. But then Rose said-

"That is not so nice, Mike-is it? ' Tote ' is not a nice word to put in the verse."

"Well, do you fix it, then; sure you can make a verse bet-ter than old Mike."

"You are not 'old Mike,"' cried Ned, as he gave Mike's arm a hug"; "you are kind, good Mike."

Rose had been think-ing so hard a-bout the verse, that she did not seem to hear this; now she said, "Why, we can let the last two lines be as they were, Mike. Then it would be--

"'Ma-ry had a lit-tle goat;
It had two horns, you know;
And ev-ery-where that Ma-ry went,
The goat was sure to go."'

"That's it, to be sure," cried Mike; "now hear me till I learn it, so I can say it to O-ney."

Rose gave him a look, to see if he was in fun, but he did not seem to be.

When they got home, it was past five, and near time for the train; so Mike put them down at the gate, and drove off to meet their pa-pa and mam-ma.

XX.

THE GIFTS FROM TOWN.

WHEN they were come, Rose, and Tom, and lit-tle Ned had so much to tell of their play, all day, and of their nice drive, and all, that their mam-ma had hard work to get her things put up, so she could come to tea.

So pa-pa called, "Here, you chicks; do you not want to see what mam-ma has got for you?"

At this they all ran, you may be sure. There was a par-eel in the hall, that had a look as if it came from a toy-shop.

You know how such a par-eel looks, I dare say. It will have odd points and sides, that look as if there was some- thing in it that did not want to be kept tied up, but was just in haste for some lit-tle boy or girl to cut the string.

Pa-pa cut the string with his pen- knife. First there was a dear lit-tle work- box for Rose, with a glass in the top, and a tray that had a place for all the things she had to sew with, just the shape that they would fit in. There were some tools in the box, too.

Rose gave a jump for joy, and said, "0, how I shall like to sew, now I have this nice box."

Then there was a white wood box, that Tom knew had some toy in it.

It was a farm-yard, that is the name of the toy. There were bits of fence to set up, to form the yard; and all that you would look to find in a real farm- yard, to put in-side: cows, and sheep, and fowls, and men, and maids.

This was for Tom. Ned seemed to think he would like that to play with; and Tom said, "You shall play with it, with me, Ned, dear; and Rose, too."

But pa-pa said, "Here is something more. I will dare to say this is for our Ned."

It was a nice horse and cart of wood, made so that Ned could take the horse out, and hitch him up a-gain, him-self.

Ned thought this was the best of all, and he said, "I will let you play with my new horse and cart, Tom; 'cause you are good."

"What made mam-ma get us such nice things?" said Rose.

"I think it was Love that made her think of it," said pa-pa. "May-be, too, she felt quite sure that some lit-tle folks of hers would try to be good while she was gone."

"How bad we should feel, if we had not tried to be good, Tom!" said Rose.

"That's so. I mean to give mam-ma a good kiss for this."

"And I, too." "And I."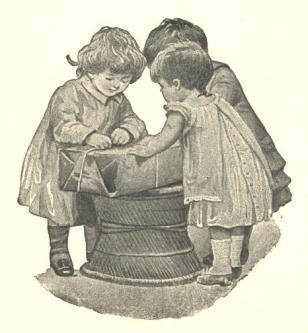 XXI.

THE LAME MAN.

FROM the gate, a wide, smooth walk led up to the front door of Mr. Dale's house, and from this, on each side, there was a walk, a-long by the side of the house, that led back to the gar-den.

The chil-dren liked to run up and down, from the gate to the house. It was a nice place to roll a hoop, or to have a race with Tray.

One day they were all out in front of the house; Rose had her dolls in the porch, poor May and all; for she said, "May must need to be in the air."

Ned drew his new horse and cart up and down the walk, and Tom had got up on one of the gate-posts, that he might see up and down the road. He liked to watch the teams go by.

Soon he got down from the post in haste, and ran up the walk to Rose.

"0, Rose, come to the gate, quick as you can! 0, such fun!"

"Why, what is it? What did you see?" asked Rose, as she put Lu-lu down, to run with Tom.

"0, I saw a man down the road, and he walks so!" and Tom drew up one foot, and made a queer step, a kind of hop, with the oth-er.

"I can-not do it as he does," said he; "he leans on a sort of cane, and he goes so slow! But come, he must be most here now."

So they ran down to the gate, and they both stood to see the man go past. It was fun to them to see him limp a-long.

But how did the poor man feel when he saw them make fun of him? For he could not but hear what they said, and see them laugh and point at him.

Rose and Tom did not think that the poor man could hear them; in fact, they did not think at all how he must feel; but on-ly how fun-ny he did look.

XXII.

MAM-MA'S STO-RY.

MRS. DALE was by the win-dow of her room up-stairs, so that she saw all this. It made her feel sad to see her lit-tle ones so un-kind to a poor lame man.

She went down, and took a seat in the porch, and called them.

Rose and Tom were glad to see her there and ran to her; and Ned came too.

"Shall I tell you a sto-ry?" said mam-ma, "a Bi-ble story?"

"0, yes, if you please, mam-ma."

"Once there was a poor, lame man, so weak and lame that he could not walk at all.

"He nev-er did walk; when he was a lit-tle child he was lame, and could not run, and skip, and jump, as you can.

"Think how you would feel, dear Tom, if you could not move your-self a-bout at all; or if e-ven one leg was stiff and lame, so that you could not use it."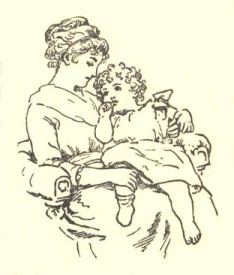 "It must feel bad, mam-ma, I think," said Tom, with a grave face, , for now he be-gan to think how the lame man that went by the gate must have felt.

"This poor lame man was laid, day by day, at the gate of the House of God.

"Some, who cared for him, had to help him there, and help him home a-gain at night, for he could not take a step by him-self."

"What did he want to get to the gate of God's House for?" said Rose.

"To ask help of those who went in at the gate. They went in to pray to God in His House, and it may be, the lame man thought it was a good time to ask them to help the poor, as they went in to ask God to help and bless them."

"Is that why they pass round a plate when we are in church?" said Rose.

"Yes; we ought to be glad to give, to help the Lord's poor, when we go to ask God for all that we need.

"Well, as men went by him, go-ing in at the gate, the lame man held up his hand, to ask them to give him some-thing.

"Most of those who cared for the poor did stop to give him a coin to buy food with, for they knew well that he was in great need of help. I dare say some made fun of him as he lay there; it may be some boys and girls did; but I hope not."

Here Rose gave a quick look at her mam-ma, and then at Tom, and her eyes were full of tears.

"One day," said mam-ma, "two men came in at the gate. They were good men. They were two of those men who were with our dear Lord Je-sus, when He was on earth, and whom He sent out to tell all men of Him, and to teach them His good Word.

"How glad they were to do this. They did so love their Lord, that they loved all men for His sake, and they loved to do good to all.

"When these good men came by the poor lame man, he held up his hand, as was his way to do, in hope of a gift from them.

"Did they pass him by? 0, no. They cared for all who were poor, and sick, and sad. They stood still. And one of them said, 'Look on us.'

"Then the lame man did look up at them; and Pe-ter-for it was he-said, 'Sil-ver and gold have I none; but such as I have, give I thee. In the name of Jesus Christ, rise up and walk.'

"He took the lame man by the hand to lift him up, and at once he felt that his poor lame feet and legs were well and strong.

"0, how glad he was! How he did leap, and jump, and walk about! It was such joy to him to use his feet!

"Then he went in with the good men, Pe-ter and John, to the House of God, to thank the Lord Who had made him well.

"For he knew that the good men did not make him well by their own pow-er, but by call-ing on the name of Jesus, their Lord.

"But you may be sure he did thank them too, and love them, for their kind deed."

XXIII.

THE LAME MAN ONCE MORE.

ROSE and Tom were quite still when the sto-ry was done. At last their mam- ma said,-

"My Rose loves the Lord Jesus; and Tom, too; do you not?"

"Yes, mam-ma; we try to."

"Then if you do love Him, you must not vex, or make fun of one who is lame, or poor, or sad. Jesus did not do so; He made the lame to walk, and the blind to see, and heal-ed all that were sick.

"You can-not make a lame man well, to be sure; but you can be kind to all such, and try to do good to them, and cheer and help them for Jesus' sake."

"0, mam-ma," said Tom, "I wish that lame man would come by here again, so I could tell him I am sor-ry."

"Why, may-be he will," said Rose.

"If he does, mam-ma, may we ask him to come in and rest?"

"Yes, you may, my child; and you will not laugh at a-ny such poor man a-gain, I know."

"No, in-deed, mam-ma; we will not."

Tom ran down to the gate-post, to look out for the lame man.

Rose saw him give a long look down the road; then she saw him jump off from the post, and run out a lit-tle way, and look; then he came fly-ing back, up to the house.

"0, mam-ma! 0, Rose! I saw him! He has sat down by the side of the road, to rest, just be-low Mike's house."

"Mam-ma, may we run and speak to him?" cried Rose.

"Yes; and you may ask him if he would like some-thing to eat or drink."

Rose and Tom ran as fast as they could, for fear the man would get up and go on. When they came up, the man gave a look round, and when he saw who it was, he turn-ed his head the oth-er way; he thought they had come to laugh at him a-gain.

Rose and Tom did not know what to do then; but at last, Rose went close to him, and put her hand on his.

"Please, sir," she said, "Tom and I want to speak to you."

The man looked at her then, and at Tom, too.

"We did not mean to make fun of you when you went by our house, and we are sor-ry we laugh-ed," said Rose, just a-bout to cry.

"Bless you, dear-y, do not mind!" said the lame man. "I had nigh for-got a-bout it!"

"Well, won't you come back to our house and rest?" said Rose.

"Yes, do," said Tom; "and have some-thing- to eat."

"I thank you all the same, dears, but I don't think I could go back; I have a good bit yet to go, and I can get on but slow-ly."

"Does it hurt you much to walk?"

"Ay, dear, I do get tired, but the good Lord helps me on."

"0, do you love Je-sus?" asked Rose.

"That I do, dear-y, as I hope."

"Mam-ma just told us," said Tom, as he came and stood by the poor man, "about a lame man whom Je-sus made well, so he could walk, and jump on his feet. I wish He would make you well, too!"

"He will, dear lad, in His own good time!" said the man. Rose and Tom stood quite still, when the lame man said this, and looked in his face with-out a word.

But soon Rose said, "If you have walk-ed a good way, do you not want some-thing to eat? May-be mam-ma will let us bring some-thing here to you, if you will wait."

"Bless your kind lit-tle heart," said the man; "I should be glad of a bit, for I have been a long time on the road."

A-way ran Rose and Tom, as fast as they could go, to the house, to their mam-ma.

"0, mam-ma, may we take our lame man some sup-per?" cried Tom.

"0, mam-ma," said Rose, "just think; he is a good man, and he says Je-sus will make him well some-time."

Mrs. Dale went to the pan-try to get some food; she cut some cold meat, and bread, and some good plain cake, and put them in a small bas-ket, so that Tom could car-ry it. Then she gave Rose some milk, in a can, and a mug for the man to drink out of, and told them to go slow-ly with the things.

The poor man was glad in-deed of the food and milk. Rose and Tom sat by him till he had done his sup-per; then he said, "Thank your kind mam-ma for me, my dears; and may God bless you both; you have done me much good; I shall get on well now, I am sure."

The man got up to go. Just then Mike came up in the bug-gy; he was on the way to the train, to meet Mr. Dale.

"0, Mike!" cried Tom; "do stop. Can you take this lame man part of the way he has to go?"

Mike look-ed at him, and liked his look; so he said, "Sure I can, as far as to the turn of the road, if he can get up here."



Mike gave him a hand, and he did get up, and seem-ed so glad of the ride! Rose and Tom then went home with the mug and the can and bas-ket, and they talk-ed all the way of the lame man.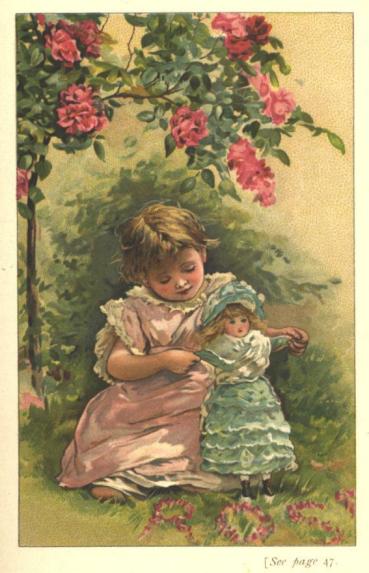 XXIV.

VISIT FROM AUNT KATE.

THE next week was a glad time for all the lit-tle ones. Aunt Kate came out to "Brook-side," for that was the name of Mr. Dale's place, to stay all the week.

She had I-da with her, of course, and I-da was such a dear lit-tle pet! Then I-da's pa-pa came too, each night, with Mr. Dale, from town. Rose, and Tom, and Ned call-ed him "Un-cle Will," and they all said he "was such a fun-ny man!" He was sure to make some fun for them, when he came.

One day Tom came in and said, "Mam-ma, Mike says the black-ber-ries are full ripe now, and it will soon be too late for them; when can we go to pick some?"

Aunt Kate said, "How far do you have to go? I like to pick black-ber-ries, too!"

"0, 0, will you go, Aunt Kate? Then mam-ma will, if you will, I know! "

Mam-ma said, "Well, if we can get a two-horse wag-on, may-be we will all go. We will see when pa-pa comes home."

The young ones found it hard to wait till they saw their pa-pa and Un-cle Will at the gate. They ran' to meet them, and all spoke at once-lit-tle I-da, and Ned, and all.

Un-cle Will put his hands up to his ears, and pa-pa said, "Wait till we get in, you mad-caps, and let me hear what mam-ma has to say."

Af-ter a talk with Mike, it was all fixed. They were all to start in good time, the next day, if it should be clear, and spend the morn-ing in pick-ing black- ber-ries. Then pa-pa and Un-cle Will were to come home on the noon train, and join them, and they were to have a pic-nic lunch in the wood near by, and then drive home by way of the Lake.

Rose and Tom were too full of glee to keep still at all: and lit-tle I-da and Ned had a long talk, in their own way, a-bout the nice time they would have.

They all went out more than once to take a look at the sky, and make sure that no dark clouds were to be seen.

The last thing before Rose went to bed, she knelt down at the par-lor win- dow, to look up once more at the sky.

"The stars are all out, mam-ma," she called to her moth-er; "they shine so bright, I am sure it will not rain!"

"Do not think so much of that, my love," said her mam-ma, "for if it should rain, we could go the next day, I dare say.

"But it would be so hard to wait!"

"You must try not to feel so, dear child; the rain, if it comes, will be all for the best; God sends the rain."

"Well, I may just hope it will be clear, may I not, mam-ma?" said Rose, with a smile; and she came to give mam- ma and Aunt Kate a good-night kiss.



XXV.

THE PIC-NIC.

THE next day was clear and bright as one could wish. The sun shone on Rose's face and woke her, and she called out, "0, Tom, it will be a nice day! We can go!"

Tom was wide a-wake, and so was Ned, in no time; and there was such a noise that Jane soon heard, and came up to help them dress.

"What makes you give me these old things?" said Tom; "don't you know we are to go to a nick-pick?"

"I don't know much a-bout a 'nick- pick,"' said Jane, "but if you go to a black-ber-ry pick, you want to wear what will not be torn all to bits with the bush-es. Your mam-ma told me to give you this sack and pants to put on."

"Well, I don't care what I wear-do you. Rose?-so we get off."

The wag-on was at the gate by eight o'clock, and soon they all got in; Jane went with them, and O-ney, to help pick; but Ruth staid to keep the house.

They had all sorts of pails in the wag-on, and a big bas-ket, with lunch in it; it was sure to be a nice lunch, for Ruth had had a great bake, the day be-fore.

"I hope we shall find a good lot of ber-ries; don't you, mam-ma?"

"Yes, I do; Aunt Kate and I would like to make some nice jam."

When they came to the spot, they saw at once that there was work to be done.

They all got out, and Mike tied up the team in the shade of some trees; then each took a pail, and be-gan to pick.

I-da had a lit-tle bas-ket, and Ned a bit of a pail, but the ber-ries they picked did not get in-to these, for they went in-to the dear lit-tle mouths.

Rose and .Tom seemed to think it was fine fun. Rose would call out, "0, Tom, come here! See how thick they are here!" And Tom would call back, "This is the best place of all; I can pick fast as my hands can go!"

By and by I-da came to her mam- ma and said, "I do like back-bed-dies, mam-ma."

"I should think so, by the look of your mouth and hands, my pet," said her mam-ma. "Now you and Ned must rest a lit-tle, or you will be tired. See, you sit down by this stone, and we will put some cake on a leaf, for a plate, and some ber-ries on an-oth-er, and you can play have a feast. But you must sit still a long time, and talk at your feast."

This was a nice plan; and Rose and Tom saw the fun, and they were glad to come to the feast too.

When they had all picked till they were tired, it was near time for lunch. They put all in the big*- pails, and they had six quarts in one pail, and five in an-oth-er, and four in an-oth-er; now can you tell how ma-ny quarts that made in all?

Mike and O-ney had a pail full too; they meant to put them with the rest, but Mrs. Dale said, "0, no! they must take some to make jam, too!"

Soon pa-pa and Un-cle Will drove up, in the bug-gy, with old Dick.

Then they laid a cloth on the grass, in the shade, and put out the lunch. There were cold fowl, and ham, and rolls, and cake; pies, too, and a jug of milk.

Food is sure to taste good when we have been hard at work; so you may know they all said this was a nice lunch.

Then came the time to pack up, for the drive by the Lake.

Mike took O-ney, and Jane, and some of the pails, home in the bug-gy. and pa-pa drove the two-horse wa-gon to the Lake.

There was a boat on the Lake, and pa-pa and Un-cle Will took the lit-tle folks all out in it, a lit-tle way; while mam-ma and Aunt Kate sat on the shore to rest.

Then they drove home by a nice road, with trees on each side, and now- and then a fine view to be seen.

When they got home, all said they had had a ver-y nice time in-deed.

XXVI.

LIT-TLE I-DA.

THE chil-dren at Brook-side all seem-ed to think the best part of a vis-it from Aunt Kate was the good time they had with lit-tle I-da. Not but what they loved Aunt Kate dear-ly, and were glad to see her; but I-da was such a dear pet, and had such fun-ny ways.

She was small of her age. Ned seem-ed like a big" boy by her side, for all he was but just six months old-er.

Then her way of talk-ing was so fun-ny. It made the chil-dren laugh all the time. I-da liked the vis-it too, you may be sure.

She was as hap-py as the day was long. She liked best to take hold of Ned's hand and go with him to see the hens and chicks, or to look at Mike in the gar-den, at work, and Mike was sure to stop when he saw the two lit-tle tots come, and find some nice fruit for them.

There was not much fruit yet on Mr. Dale's place, but Mike took good care of the trees and vines, so there was hope of more the next year.

One day when the lit-tle ones were down by the gate, I-da cried out, "0, see! 0, see de cows take the woods to ride!"

Tom and Ned look-ed out, and saw a load of wood drawn by an ox team.

"0, ho!" cried Tom; "those are not cows, I-da; those are oxen; don't you know, old Suke does not pull a cart!"

"No! nice Suke give me mik!" said the lit-tle girl. She liked the new milk, warm from the cow, as much as Rose did when she was of her age; in fact, Rose liked it still.

I-da thought all that Ned did was just right. Once, when the lit-tle ones were all out in the yard, af-ter tea, as it grew late, Jane came to call them in, to put them to bed. Ned's mam-ma and Ida's mam-ma were both gone out, to take a walk and make a call.

Ned was at play, and did not feel like go-ing to bed; and, sad to say, he for-got that he must be a good boy, and

do as he was told, if he did not feel like it. So he looked up at Jane, and said, "No, go a-way, Jane; I shan't come yet."

Lit-tle I-da sat still, and looked at him, and then at Jane. Soon she said to Jane, "Ned san't! and I san't too!"

"There, Ned, you hear that! do you want to teach dear lit-tle I-da such ways?"

Ned's lit-tle face grew red, and the tears came in his eyes. Soon he got up from the grass, and said, "Let's we go, I-da, and then we will get up in the morn-ing."

Then Jane took one of them on each arm, for she was strong, and gave them each a kiss. As they went up-stairs, Jane sang to them,-

"Lit-tle Ned

Will go to bed,

And on the pil-low lay his head.

I-da bright

Will sleep all nig-ht,

And wake up with the morn-ing light."

This made them laugh, and they went to bed as hap-py as could be.

XXVII.

WHICH KIT-TY?

WHAT I-da liked best to play with was a kit-ty. She had no kitty at home, and when she saw Ned's kit-ty, and Spot, and Net, she was so full of joy! She ran to take first one, then the oth-er, and kiss and hug them.

When she saw one kit run af-ter a spool on a cord, and one kit run round and round af-ter her tail, and one kit jump on the old cat's back, how she did clap her hands, and laugh, and shout!

I-da did not get tired of play-ing with the kit-tens. She would sit and hold one of them as long as it would stay in her lap. She liked to play with the dolls with Rose, but she liked a kit-ty best to play with.

"Mam-ma," said Rose, "how I-da will miss our kits, when she goes home! Won't she?"

"Yes, dear; and she will miss you all, too. Aunt Kate just said she did not know what she would do with her at first, she would be so lone-ly."

"I wish we had one more kit-ty that we could give I-da," said Rose.

Her mam-ma did not speak; she thought she would wait and see what Rose said next. Rose did not say a-ny more for some time, but at last she gave a sigh, and ask-ed,-

"Do you think we ought to give I-da one kit-ty, to take home, mam-ma?"

"Well, I do think three hap-py lit-tle ones, who have each oth-er to play with, might spare one kit-ty to I-da."

"I mean to go and talk to Tom," said Rose.

Soon Tom ran in. "0, mam-ma, must we let one kit-ty go?"

"I did not say you must, dear child. I said I thought it would be a good plan. It would make lit-tle I-da hap-py, and it would be a kind thing to do.

"You must think of this, too; the kits will soon grow large, and we shall not want to keep four big cats a-bout the house."

"Let old Puss go, then, mam-ma, and keep "the kits."

"0, no, no!" said Rose.

And mam-ma said, "We all love old Puss; and then she keeps off the rats and mice, and so is of use to us."

"Which kit-ty do you think we ought to give to I-da, mam-ma?"

"That is for you to say, your-selves. But if you give up one, you ought to own the oth-ers all a-like, I think. Which does Ida like best?"

"I know," said Rose; "she likes Spot best, my dear Spot."

Tom look-ed at Rose, and he saw tears in her eyes; then he said, "You need not give up Spot, sis; I will give Net to I-da; that will do as well."

"No," said Rose; "she will not play with Net now, for she bit her one day when she was at play with her. I dare say she hurt poor Net, for she does not bite us."

Ned had come in, and now stood by his mam-ma, to hear what was said.

"Shall we give one kit-ty to I-da, to take home, Ned?" ask-ed mam-ma.

"Yes, we will," said the lit-tle boy; "I loves I-da, and I will give her mine kit-ty."

"Let us take I-da to choose one," said Rose; "and, Ned, if she likes yours best, you can give it to her, and you shall own half of my kit-ty. And if she wants my kit-ty, you will let me own half of yours-won't you?"

"Yes," said Ned; "you shall have two paws of her, and I'll have two paws."

"And you shall own half of Net, too!" said Tom.

They ran off to find lit-tle I-da: her mam-ma had her in her room, to dress her. When the chil-dren told her she was to have one kit-ty to take home, she was as much pleased as they could wish.

"Come, now, pet, and choose the one you want," said Rose.

I-da took a good long look at each kit-ty; at last she said, "Dey is all nice, but I like dis one!" and she took Spot in her lit-tle arms.

Rose look-ed at Tom with a smile, and said, "Well, you shall have Spot for your kit-ty, dear I-da. Now give me one good kiss for her." I-da gave her a kiss, and a hug, too. And Aunt Kate said she was a dear good child, and so were they all, to give up one of their pets.

XXVIII.

WHOOP-ING COUGH.

ONE day, not long af-ter Aunt Kate's vis-it, Mrs. Dale look-ed out to see what her lit-tle folks were do-ing, in the yard, and saw them all down at the gate. Out-side the gate were two lit-tle chil- dren, by the name of Ray,-Fred and Nell Ray,-who lived some way up the road, so that it was quite a walk from their house.

Mrs. Dale went to look out a-gain, af-ter a time, and saw them still there. They were talk-ing and play-ing through the rails, but they seem-ed all to take great care not to o-pen the gate.

Mrs. Dale went down then, and said, "Rose, my dear, why do you not ask Nell and Fred to come in and play with you, in the yard, or in your play-room?

"Come, lit-tle ones, come in and rest; you have had a long walk."

She took hold of the gate to o-pen it; but lit-tle Nell cried out, "0, no, Mrs. Dale; mam-ma told us we must not go into your house, 'cause we have got the whoop-y cough."

Mrs. Dale could not but laugh, but she felt more like a good cry.

"So you kept the gate shut, for fear the whoop-ing cough would get in to Rose, and Tom, and Ned!" said she. "My dear lit-tle girl, you might as well come in; all the harm is done that will be done, by this time, for you have been talk-ing with them a long time."

"Why, we did not come in one step!" said lit-tle Fred; "did we talk the whoop-y cough in-to your yard?"

"Yes, my dear; the poor gate could not do much good, when the lit-tle heads met a-bove it.

"But do not cry, my boy; you and Nell did not mean any harm, and, we can-not help it now."

"He feels the cough com-ing on," said Nell; "that is what ails him."

She was right; poor lit-tle Fred be- gan to cough, and he had a hard time with it; the fit held on a long while, and it made his nose bleed a good deal.

"Poor child!" said Mrs. Dale, "he is all tired out. You must come in, Nell, and I will lay him on the lounge to rest, and wash off the blood from his face."

Jane had come out to see if she could help, and Mrs. Dale had her lift lit-tle Fred in her arms, and take him in. He felt so tired, that he did not mind what they did.

"Rose," said her mam-ma, "you coax Ned in-to the gar-den with you. He was not as near them as you and Tom were; may-be w-e can keep him from it.

"What makes you smile, Jane?"

"Why, ma'am, I was think-ing, if Rose and Tom had the cough, Ned would have a good chance to take it from them."

"That is true; but I might send him a-way from them, you know-."

"Yes, ma'am; but it may be all for the best for them to take it now. They say it is not apt to go so hard with young ones, as when they are old-er."

"I dare say that is so, Jane. The fact is, it gave me such a start to hear they had the cough, and to see that poor child, that I could not think."

When lit-tle Fred had a rest, and had his face wash-ed, and had some nice, cool drink, he felt quite bright. Mrs. Dale gave him and Nell some books to look at, and some of Rose and Tom's toys. She still did not think it wise to let her chil-dren play with them, in the room.

But Nell's face was grave and sad. Soon she put down the book she held, and went up to Fred; Mrs. Dale was in the next room; they were in the play- room, and the door was half o-pen, so that she could see them; but Nell thought she was gone.

"0, Fred-dy," said Nell, "I wish we had just come a lit-tle walk, as mam-ma said! I wish we had not come to talk the whoop-y cough to Rose and Tom!"

"Did we make them have it too?" said Fred; "I don't want them to, it's so bad!"

"I wish we could take it all home with us," said poor lit-tle Nell; "what shall we do, Fred? Let's go home, and tell mam-ma."

"Well," said Fred, "I want to go home."

Just then, Mrs. Dale saw, from the win-dow, a girl go-ing past, in the road; she was walk-ing fast, and gave a look on each side, as she went, as if she had lost some-thing.

"Nell, dear," said Mrs. Dale, "look out and see if you can tell who that is in the road."

"Why, yes," cried Nell, "that is our Ann; mam-ma must have sent her for us."

So Mrs. Dale sent to tell the girl that Nell and Fred were 'there. She told her to tell their mam-ma how it was that they came in, and that they were not so much to blame as it see-med.

"0, dear, rna'am!" said Ann; "sure, I am vex-ed that they came here! Their mam-ma told them they might walk a bit down the road, and they to come so far!"

"Yes, that was what did all the harm. Fred and Nell for-got what their mam-ma said when she let them go out, and you see what a sad time came of it. Lit-tle girls and boys must do just as mam-ma says."


On to chapters 29-end




Back to main page




Scanned by Deidre Johnson for her 19th-century girls' series webpage. Please do not use on other sites without permission