CHAPTER IV.

MAUD'S SKETCHING TOUR. FIRST BULLETIN:-WORCESTER.



AFTER the excitement of the lawn-party quiet settled down upon Cosietoft. Tom and Dick returned, respectively, to Worcester and Oxford. Mr. Atchison spent his time chiefly at his mills in Manchester; Saint and Maud were on their way to London, and Barbara was left to her own devices. She was a fine rider, and mounted upon " Prince Rupert," a dashing black horse, with Harry for her escort on " Oliver," a rather hard-mouthed gray-coated animal from Wales, who reminded them in more than one way of the illustrious Cromwell, for whom he was named, the two explored the charming region in every direction. They visited Alton Towers, and rode to Buxton, now a fashionable watering-place, fourteen miles distant, where Mary Queen of Scots was once detained under custody of the Earl of Shrewsbury. She busied herself also with botanical studies, making a collection of British wild-flowers, in long walks and climbs over the "tors" or mountains in which the county abounds. Opposite each flower she wrote in her album some selection written in its praise by one of the English poets. For the daisy, for instance, after long debate, she chose Chaucer's lines:-

" I am up and walking in the mead,
To see this flower against the sun spread,
And when that it is eve I run blithe
As soon as ever the sun sinketh west,
To see this flower how it will go to rest
For fear of night - so hateth she the darkness,
Her cheer is plainly spread in the brightness."

These late April and early May days were just the season for angling, and Harry instructed her in the manufacture of elaborate artificial flies for the tempting of carp, barbel, chub, and perch. When fly-fishing proved unsuccessful they did not scruple to resort to the dip-net, and when minnows were their only prey Mrs. Atchison had them fried after Isaak Walton's recipe, with cowslip blossoms and yolks of eggs. Many an old weir and mossy mill-race, or willow-shaded lake, lying calm and dark like a Claude Lorraine mirror, many a sunshiny river, glancing and rippling over pebbly shallows, remained in her memory living illustrations of such poems as " Stoddart's Angling Reminiscences." Mr. Atchison never tired of hearing her sing, when he came back wearied from the Manchester mills; there was .a joy in the fresh young voice which matched the words: -

" Sing, sweet thrushes, forth and sing I
Meet the morn upon the lea;
Are the emeralds of the spring
On the angler's trysting tree ?
Tell, sweet thrushes, tell to me,
Are there no buds on our willow tree ?
Buds and birds on our trysting tree ? "

" One morning Mr. Atchison made Barbara a present of a small, silver-hasped, chest-shaped writing-desk, inlaid with mother-of-pearl. " I am afraid, my daughter," he said, " that you will be lonely and homesick, now that your young companions have left, and I fancy that I have employment here for many a leisure hour. I heard you say that you had a fancy for antiquarian research, and this box contains the girlhood correspondence of your great-aunt, Elizabeth Atchison. These letters were written in the early part of this century, and a few of them are from people who have since attained to some celebrity. You have a right to own them, and I only trust that they may furnish you some entertainment."

Barbara accepted the gift with delighted anticipations, but it so chanced that her time was so fully employed that she did not immediately examine the contents of the writing-desk.

Soon after the girls left, a letter came from Maud, dated Worcester. Barbara shared it with Mrs. Atchison, who had become much interested in them all.

"WEDNESDAY, 10 P.M.

"DEAR BARB .,"Maud wrote,-" Do thank Mrs. Atchison for me, for the kind introduction to Mrs. Cheritree. She made me feel at home at once, though English customs are all so unlike our American ones. I am quite bewildered by the multiplicity of meals: breakfast, lunch, dinner, tea, and supper. However, one is not obliged to attend them all, and can make a selection according to one's convenience.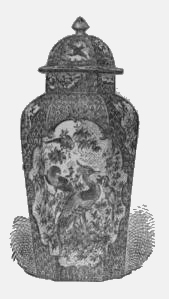 " For a manufacturing town, Worcester is handsomer than I expected. I have not made any sketches of scenery or architecture as yet, having so far devoted myself to my pet hobby - china. This morning Mr. Tom Atchison showed me over the porcelain works. You can't tell how interesting it was to me. They employ about eight thousand workmen, and I saw antique specimens as well as the elegantly-shaped modern pieces in white and gold which we know so well in America.

" I secured a quantity of photographs, and made some pencil studies, which I enclose. You can forward them to my address at South Kensington. I was chiefly interested in some vases bearing the 'exotic ' birds in their ornamentation. Dr. Prime in his 'Pottery and Porcelain' criticises these birds as bearing no resemblance to any living species.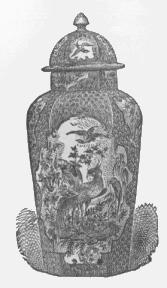 I was sure, however, that I could trace the golden pheasant, the bird of paradise, and some other Asiatic varieties. You will notice that I have sent you pictures of other ware than Worcester. I never had the whole history of English porcelain explained clearly to me before. In a nut-shell it is this: The first manufactures of any importance were at Chelsea and Bow, carried on from 1730 to 1770.

" The Chelsea wares borrowed their ornamentations from the French and from the Chinese, and also produced little figurines something in the way of the Dresden Shepherdesses, which were also made at Bow. A figure of Flora, modelled by the sculptor Bacon, and executed at Bow, I expect to see at the South Kensington Museum.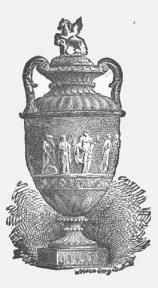 "Then came Wedgewood, with his important chemical discoveries, resulting in close imitations of Basaltes and Jasper, discoveries which would hardly have created the sensation they did had they not been utilized by Flaxman's skill, and blossomed in the beautiful reproductions of the antique in cameo. This seems to me an instance when a true artist tried his hand at decoration, without in the least degrading his art. About the same time the Chelsea manufactory was merged in the Derby, in 1751, the Worcester works sprang into notice, and have ever since maintained their supremacy.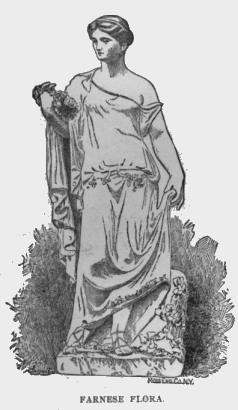 " This may be very dull to you, dear Barb, but to me it is intensely fascinating. I have gained many practical hints, and intend to go right to work as soon as we are settled at South Kensington. Mr. Atchison told me where I could have my china fired, and was of great service to me in various ways. He paid a compliment to my taste, with which I was not over pleased, as it was at the expense of that of Americans generally. He assured me that I had shown discrimination by admiring correct forms, and then said that he had been told that the kind of ornamentation we affected in America was the twining of porcelain jugs and vases with imitation-satin bows and ribbons. He described one horror: a ewer, apparently issuing from a satin bag, shirred and tied with a carelessly-knotted string, which he had seen praised in an American newspaper. I could hardly believe it. It seems to me that we get credit for all our crudities, while our good, earnest work passes unnoticed. Still, as Saint says, the misunderstanding arises from mutual ignorance, and the more I see of the English the more I respect their sterling qualities.



" The letter you handed me just as I was leaving was from Saint's cousin, who I told you was connected with a new scheme for starting a large manufactory in America. He wants me to send him designs for a dinner-service,-there is to be a competitive exhibition, and considerable sums of money are to be awarded as prizes. I do not care for the lucre, but the glory! and I shall do my best. Enough about porcelain. I am going to-morrow to visit the principal points of interest connected with Cromwell's crowning victory here at Worcester. I think the career of that remarkable man, from the Battle of Marston Moor to the coup de grace which he gave Charles in the streets of this old city, is one of the most fascinating of romances. After this victory our sympathies go out for the king in hiding, handed from one trusty subject to another, concealed in various disguises, in the ' Priests' Hole ' of the nobleman's hall, among the servants in the kitchen, and the peasants in the cottage. I like to think that though a thousand pounds were offered for his discovery, and so many people knew of his whereabouts, he was not betrayed.

I wonder why it is that our interest deserts the successful side, and that we care no more for Cromwell except when we pity him beside the deathbed of his dearly-loved daughter. But those fierce struggles at Marston Moor, Naseby, and at Worcester stir my blood still. Do you remember Macaulay's description of the charge of Cromwell's Ironsides at Naseby?-

' They are here ! They rush on ! We are broken ! We are gone
Our left is borne before them like stubble on the blast !
O Lord, put forth Thy might! 0 Lord, defend the right!
Stand back to back in God's name, and fight it to the last.
' Stout Skippon hath a wound, the centre hath given ground,
Hark! hark ! What means the trampling of horsemen on our rear ?
Whose banner do I see, boys ? "Tis he, thank God, 'tis he, boys!
Bear up another minute, brave Oliver is here.
' Their heads all stooping low, their points all in a row,
Like a whirlwind on the trees, like a deluge on the dykes,
Our cuirassiers have burst on the ranks of the accurst,
And at a shock have scattered the forest of his pikes.
' Fast, fast the gallants ride, in some safe nook to hide
Their coward heads, predestined to rot on Temple Bar;
And he -- he turns, he flies; shame on those cruel eyes
That bore to look on torture, and dare not look on war.'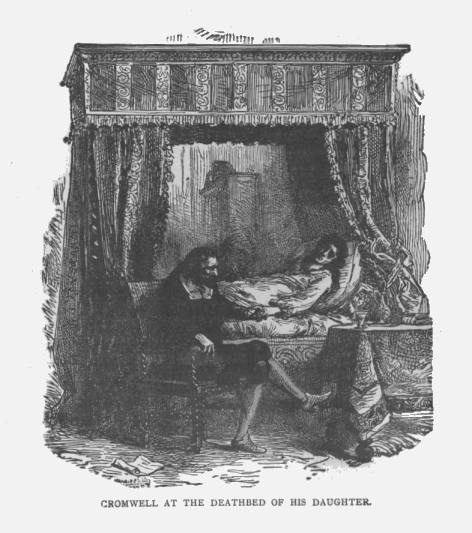 "I wonder how Saint is enjoying herself, and more especially what kind of an impression she is making on Miss Featherstonhaugh. Heigh-ho! it is growing late and I must stop. I will finish this letter to-morrow."

" THURSDAY MORNING.

"I am scribbling for dear life in the station while awaiting the train which is to take me to Saint. This has been an eventful morning. I started out early, intending to visit all the places identified with Cromwell and King Charles. The battle of Worcester was fought for the most part in Perry Wood, about St. Martin's gate, and in the city streets. The cavaliers made their last stand in the old Hall, which ran with the blood of the Scotch and English. There is a curious old record in the city archives: "Paid for pitch and rosin to perfume the hall after the Scots' two shillings."'

" In Perry Wood, where the action began, I was shown a tree under which I was told the devil appeared to Cromwell, and promised him the victory.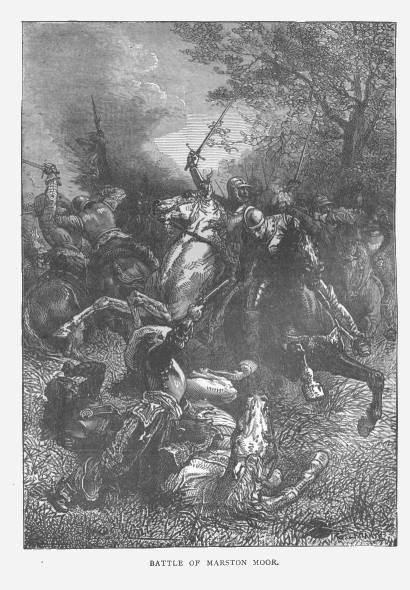 " I made a sketch of Powick-Old-Bridge, where the battle raged fiercely, and then climbed the grand old cathedral tower from which King Charles is said to have watched the slaughter of his men. I was delighted with the cathedral cloisters, which have been restored in just the right way, the original designs repeated conscientiously, with no frightful mutilations or anachronisms to jar upon an educated taste. I noticed a gentleman sketching here, and I crept just near enough to discover that his work was architectural, and consisted of geometric plans instead of pictorial effects. I was turning away when he suddenly became aware that he was observed and faced about. It was John Featherstonhaugh! Of course there was no backing out then, and we shook hands cordially. He inquired particularly for Saint, and for you, and seemed much pleased to learn that she was with his sister, and you were at the Peak.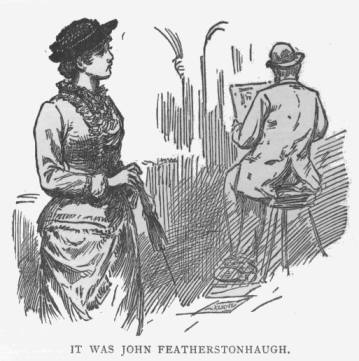 He hoped that his business engagements would admit of his running home for a vacation during the summer, so you may see him one of these days. He seemed older and more careworn than when we met in Spain. Ask your uncle if it is not possible that he is worried about money affairs. He had a portfolio of drawings with him which he showed me. They were all designs of mediaeval restorations. I congratulated him on being in his element, but he shook his head. "A man should identify himself with his age," he said, "and not waste his life in repeating the masterpieces of bygone times. I want to supply modern needs, and to be useful to my own generation.

" When I asked him how an architect could do this better than by perpetuating beauty, he replied that there were more vital problems to be solved, and explained that this was alarmingly an age of insecurity in building, and that we would be looked upon in future times as ignorant barbarians for allowing ourselves to be burned in droves in theatres and in apartment-houses. He has invented a style of fire-escape which will be ornamental externally, and with which he pro- poses to decorate the facades of high buildings. It is to be constructed, where expense is not a consideration, of scroll-work of hammered iron in old Dutch and Spanish fashion; and he showed me some designs of balconies, and connecting lattice-work which were simply beautiful. His idea is not only a humane one, but I am positive that there is money in it, or would be in America. He goes from "Worcester directly to Oxford, where it is possible that we may meet him again. My train is approaching.

" Hastily, MAUD."

" And now," exclaimed Barbara, " I am impatient to hear from Saint. I am so curious to know her experiences with Miss Featherstonhaugh."

"We will soon have an opportunity of learning from Gladys herself how your friend Miss Boylston struck her,"" Miss Atchison replied. " Harry called at the manor this morning, and ascertained that she was expected to return to-morrow. Your uncle thinks we must have a yachting trip in the 'coal-scuttle' as soon as Dick's vacation occurs, and I believe he intends to invite Gladys to accompany us. But what is this acquaintance with John Featherstonhaugh? I did not know that he had ever been in America."

"He was with Lord Gubbins, auntie, when we were in Spain. We were in the same hotel at Granada and other places. He seemed quite pleased with Saint, and was very obliging to all of us."

"And what did your friend, Miss Boylston, think of him ? "

" She does not approve of him at all; but she must change her mind, he is so thoroughly good-natured, and has such an honest, trustworthy face, that I don't see how she can help liking him even if he were not so refined and cultivated. Mrs. Atchison assumed a thoughtful expression. " I have known John Featherstonhaugh since he was a baby," she said, " and I know him, too, to be as good as he is agreeable. He is my Tom's particular friend, and I have had every opportunity of observing him. That was just like him.

' To serve the present age,
My calling to fulfil.'

He always was something of a Methodist, in feeling I mean. He has proved himself a good son and brother, and that is the surest guaranty that he will make some one an estimable husband."


---
On to chapter 5
Return to main page

Scanned by Deidre Johnson for her 19th-Century Girls' Series website; please do not use on other sites without permission